The ZZ plant is a slow-growing houseplant but often develops 1-2 new shoots during the early summer months. The new stems also grow moderately up to 5-10 inches monthly. In some cases, they may grow faster, especially if the weather conditions are suitable.
However, the plant may not grow fresh stems during the growing season. Sometimes, the plants go under a dormant phase and do not show any signs of growth. In such situations, you can encourage the plant to develop new growth.
Let's look at the following guide to learn more about the ZZ plant's growth rate and different useful ways to revive growth in this plant.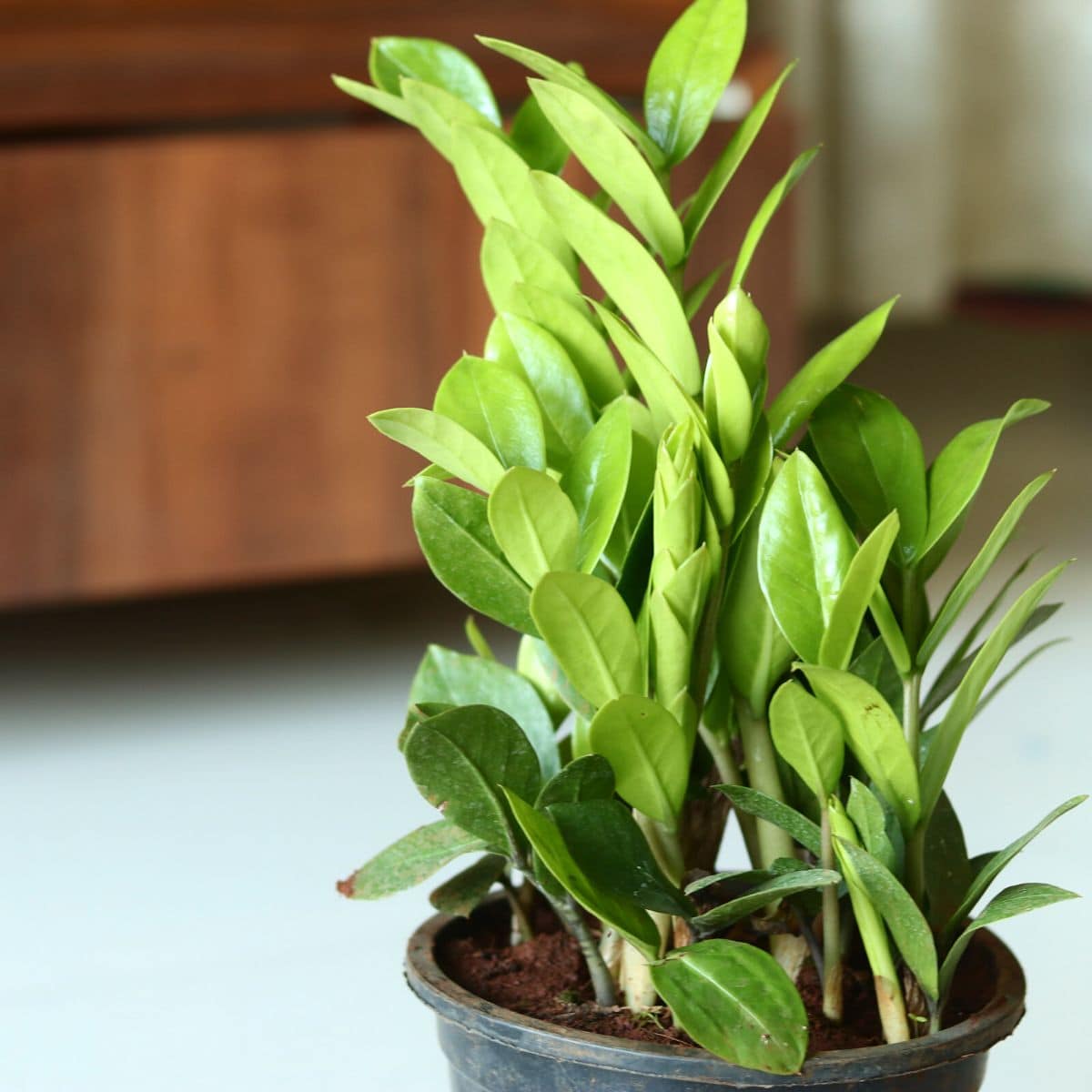 ZZ Plant Growth Rate
As I've mentioned earlier, the ZZ plant grows sluggish when you keep them indoors. You can expect faster growth during the summer and spring seasons. But in the winter, it turns dormant and showcases low growth.
It reaches up to 2-3 feet tall and 3 feet wide in its lifetime and is hardy in USDA Hardiness Zones 9b-11.
It also produces rhizomes under the ground that help store water for later uses. The plant can stimulate new growth from rhizomes when it gets ideal conditions.
The new stems arise from the soil and grow 5-10 inches tall. They usually grow straight in search of sunlight. But the growth of the stems relies on several factors, including sunlight, watering, fertilizers, and pot size.
6 Tips To Encourage New Growth In ZZ Plant
Even though the ZZ plant doesn't grow fast, you can do certain things to get new shoots on the plant. Here's how –
1. Provide Enough Sunlight To The Plant
The ZZ plant doesn't require a lot of sunlight. In fact, it hates direct sunlight and begins to wilt if it stays in such light for many hours.
You shouldn't keep it in an extremely dark room, either. It needs some light to produce food and nutrients for different parts of the system.
Without light, it won't survive at all, and you won't see any new growth in the plant as well. So, make sure you take care of the light requirements of this plant accordingly. It needs to be placed in indirect sunlight. You may also keep it in artificial light if natural light is not available in the room.
2. Water The Plant Sufficiently
Watering is another key element that can decide whether you will have new growth in the ZZ plant or not.
This plant doesn't require too much water. If you have not been watering it too often, you should fix the watering frequency immediately.
In most conditions, the plant must be watered once or twice a month.
In the summer months, you may increase the frequency to twice a month, but check the condition of the soil before going ahead with it. If the soil is moist, do not water your plant.
Although the plant has rhizomes under the soil, it won't be able to absorb excess water. This can create an overwatering situation in the pot and lead to root rot. Then, you won't have much of an option and will have to focus on resolving this issue.
Due to this problem, the plant won't come up with any new growth. Hence, be careful when you're watering your ZZ plant.
3. Fertilize Your ZZ Plant To Promote Growth
To see new growth in your ZZ plant, you must fertilize it. Fertilizers help the plant develop fresh leaves and stem growth.
It's also important to fertilize the plant at a consistent rate and not periodically. This will allow the plant to focus on new growth and prevent it from becoming stressed.
You can fertilize it with Nitrogen-rich fertilizers, which help in comprehensive growth. If you don't want to feed commercial fertilizers, use homemade compost or vermicompost.
As for the application, you should feed the plant early in the morning or in the evening. Once fertilized, water the plant well.
4. Change The Soil
Even though fertilizers are beneficial in providing the required nutrients to the plant, you should try changing the soil in the pot.
If you have been growing this plant in the same soil for a long, replace the old soil with a fresh soil mix. It will provide a new environment and nutrients for the plant. As for soil, use well-draining soil for this plant. It will help address any overwatering issues as well.
This is another way of encouraging new growth in the ZZ plant, and I'm sure you will see some great results after following this simple method.
Note – Do not change the soil if the plant is doing alright. Just add a layer of fresh soil on the top if necessary. Otherwise, skip this step completely.
5. Place The Plant In A Bigger Pot
It should be done when your plant is not growing or showing a lack of growth. It probably means the plant is rootbound and needs more space to grow in the pot.
To confirm the above issue, remove the plant from the current pot and inspect it properly. Once confirmed, it's time to move it to a bigger pot.
Watch the following ZZ plant's repotting video to learn the process –
6. Prune Your Plant
Pruning is generally considered helpful in encouraging new growth in the plant. You can do light pruning if you haven't pruned the plant in a year or two.
Prune some of the unwanted leaves and stems initially and see how the plant reacts.
Most probably, you will see some excellent results after this task. But don't get overenthusiastic about this whole task. You should only remove the leaves and stems that are damaged or unwanted.
Do not remove the fresh ones from the plant. It will make things difficult, as producing new leaves or stems needs more nutrients from the soil.
These are the few things you need to remember if you want to see any further growth in your plant.
Why Is My ZZ Plant Not Showing New Growth?
Here's the list of reasons for you –
1. Damaged Plant
If the plant is damaged, you shouldn't expect it to produce new shoots.
In such situations, the plant focuses its resources on the rebuilding phase. It will also try to heal the damage internally.
But you can expedite this process by helping it revive from this condition. If the leaves and stems are damaged, you can prune them off. This will eventually encourage new growth.
2. Stressed Plant
Similar to the above condition, the plant will react the same way when stressed.
Generally, the ZZ plant gets stressed when you don't water it on time. It can certainly go through dry spells, but that doesn't mean you should neglect it altogether.
If the plant does not receive water or nutrients from the soil, it will reserve its resources for survival. It won't use them to grow new stems in this situation.
This is why you might see wrinkles on its bulbs and existing stems. These signs indicate the plant needs water, and you should act upon it quickly.
3. Lack Of Nutrients In The Soil
Most of the time, we do not give too much attention to the potting medium. We often use substandard soil, which does not contain enough nutrients for the plant.
If your ZZ plant has been growing in such soil, it won't grow much over the period. Initially, the plant will use most of the nutrients from the soil and might show better growth comparatively.
Later, you will see a lack of growth in the plant. You won't see new leaves or stems on such a plant. Furthermore, the size of the existing parts will remain pretty much the same for months. So, this could be another reason you won't see much growth in your plant.
4. Unfavorable Weather Conditions
Climate conditions are also critical in the growth of houseplants.
E.g., The ZZ plant shows amazing growth in summer and spring, but you won't get the desired results in winter.
It happens because of the change in sunlight intensity and temperature around the plant. Once the temperature drops below 60-65°F, the plant will stop growing fresh leaves or stems.
Other than that, if you move the plant from its place, it can also impact its growth. It won't get the same conditions in a new location and will need 1-2 weeks to acclimatize to the surroundings.
5. Lack Of Sunlight
Although this plant does well in low-light places, you shouldn't keep it in a completely dark room.
As I mentioned in the guide, the plant needs sufficient light to prepare its food. It cannot produce enough food if there isn't much sunlight in the room. Therefore, the growth will be pretty lackluster.
It needs at least 4-6 hours of indirect sunlight daily. If you grow this plant in such places for a long, you need to see whether it's the right place. Transfer it to a brighter place where it gets sufficient sunlight during the day.
FAQs
1. Why Is My ZZ Plant New Growth Light Green?
The lack of sunlight and nutrients in the soil are the two possible causes of this issue in your plant.

Once you fix them, you should see decent new growth in the plant. Also, don't forget to fertilize the plant with a nitrogen-rich fertilizer.
3. Why Is My ZZ Plant Spreading?
The ZZ plant grows in the direction of light. If the light source is far from the plant, it will spread its stems to reach this source. It's typical of the plant, and you must move it to the right place to fix this issue.
4. Do ZZ Plants Like To Be Crowded?
Yes, the ZZ plants do well when slightly crowded, but you shouldn't keep them in the same pot for too long. Otherwise, you won't see any new growth after some time.
5. Should I Remove Yellow Leaves From ZZ Plant?
Yes, you can remove yellow leaves from the ZZ plant. These leaves will not turn green again, so taking them off the plant is better.
Over To You
As you know, sometimes, the ZZ plant can take some time to show any sign of growth. But you shouldn't give up on your plant. With decent sunlight, proper nutrients, and the right watering frequency, you can encourage new growth in the plant.
Do let me know if you have any questions related to this topic. I'd be happy to help!
Please share this guide with your friends and family if you find it helpful.