Don't toss out your moldy coffee grounds just yet - you can use them to fertilize your garden!
Coffee grounds are high in nitrogen, potassium, and magnesium, all of which are essential nutrients for plants. But can you use the ones with mold growing on them?
In this guide, let's learn about moldy coffee grounds and how you can use them for your indoor as well as outdoor plants.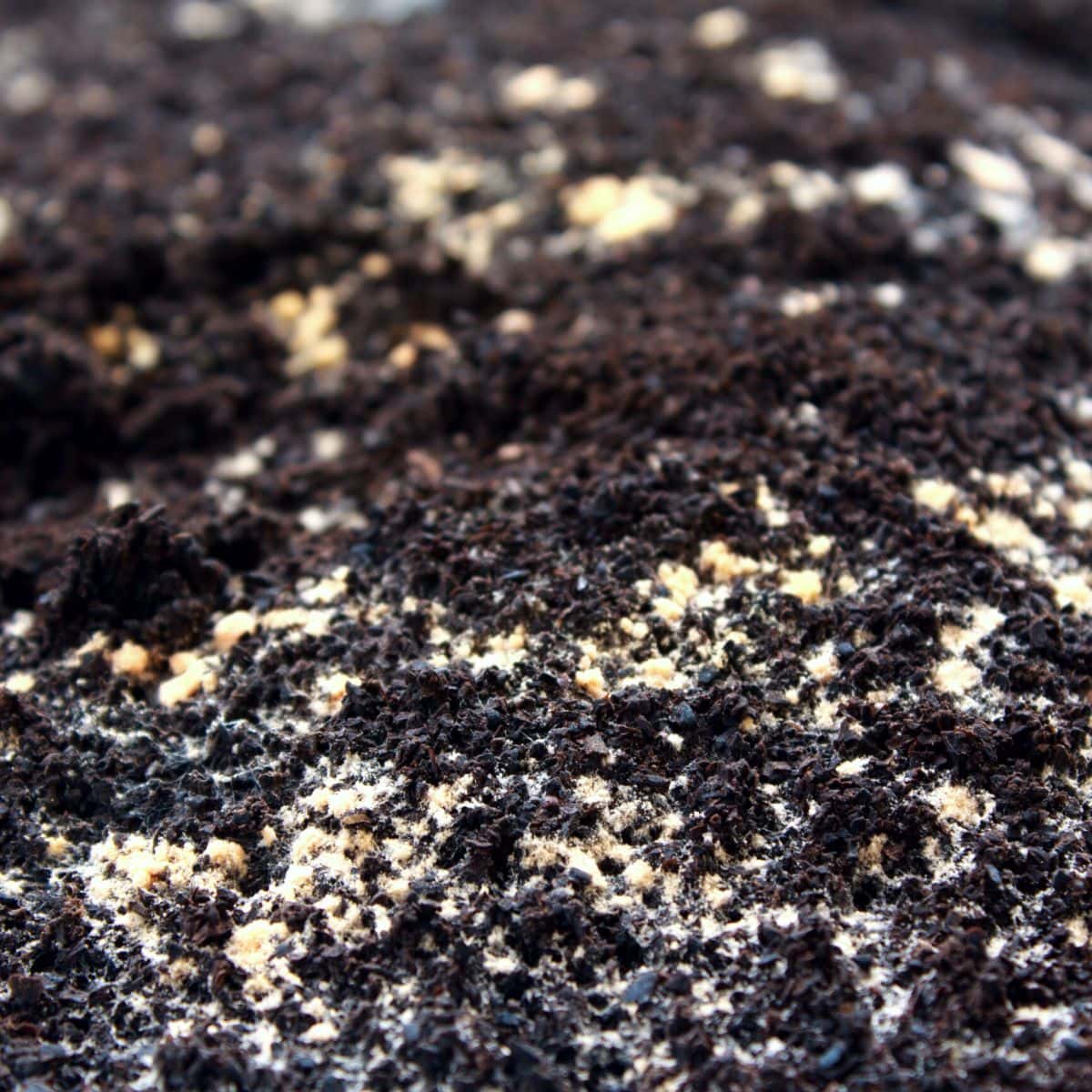 Jump To:
What Are Moldy Coffee Grounds?
Moldy coffee grounds are precisely what they sound like coffee grounds that have been infected by mold. This usually happens when you do not store them in a moisture-free environment, such as in an airtight container.
As a result, the grounds can become a breeding ground for mold and other bacteria. But the good thing is you can still use them as fertilizers.
Is It Safe To Use Moldy Coffee Grounds In The Garden?
I'm sure you may be wondering if it's safe to use moldy coffee grounds in the garden. It depends on the kind of mold that is growing on them.
If the mold produces mycotoxins, you should avoid using them for your plants. Mycotoxins are not beneficial and can cause several issues to the plant system. On the other hand, if the mold is not producing mycotoxins and it's just a regular fuzzy fungus, you can use those coffee grounds in your garden.
You can identify this mold by looking at the color of the fungus. If it is white or brown, it most likely does not produce mycotoxins and thus can be used as a natural fertilizer.
Why Should I Use Moldy Coffee Grounds In The Garden?
As mentioned earlier, you can use moldy coffee grounds in the garden despite their moldy state. This is important for plant growth, as they contain a high Nitrogen amount of around 2.5-3% and a Carbon to Nitrogen ratio of 20:1.
Nitrogen is required for chlorophyll and other essential nutrient production. It also helps in the overall growth of the plant, so using moldy coffee grounds is a great way to give them a boost.
Plus, they also contain other beneficial nutrients like potassium and magnesium. Potassium is good for plant growth, whereas magnesium helps improve vegetable and fruit quality.
How To Use Moldy Coffee Grounds In The Garden
Here's a step-by-step process to feed coffee grounds to your plants -
Collect the moldy coffee grounds in a plate or container and wash them thoroughly under tap water.
Place them in a tray and sun-dry them for 2-3 days.
Once they're dried, you can sprinkle the powder around the base of your plants.
Water the plant until it drains out from the pot.
Note - You should only add a tablespoon of coffee grounds powder to the soil of each plant. Then, water the plants as usual.
The coffee grounds will help release nutrients into the soil, which will help the plants grow strong over time. As a result, they will also fight off any pests attacking the roots. So, if you have any indoor or outdoor plants that could use a little boost, add moldy coffee grounds to their soil and see the difference it makes.
What Plants Like Coffee Grounds?
There are quite a few plants that enjoy coffee grounds. So, here are a couple of lists for you.
Outdoor plants that like coffee grounds -
Azaleas, Camellias, Roses, Rhododendrons, Vinca, Begonias, Impatiens, Petunias, Salvia, Alyssum, Candytuft, Lobelia, Snapdragons, Stocks, Sweet alyssum.
Indoor plants that like coffee grounds -
African violet, Anthurium, Asparagus fern, Boston fern, Dieffenbachia, Dracaena, Easter lily cactus, English ivy, Geranium, Philodendron, and Spider plant.
Note - These are not comprehensive lists, and many other plants enjoy coffee grounds. Besides you can also use the trial and error method to see if your plant likes them.
FAQs
1. How Long Does It Take For Used Coffee Grounds To Mold?
It usually takes 2-3 days for coffee grounds to mold, but it can vary depending on the temperature and humidity levels around the place.

Therefore, you should use freshly brewed coffee grounds as fertilizer. Just rinse them well and use them as suggested in the guide.
2. Can I Use Coffee Grounds If They Are White?
Yes, you can use such coffee grounds. However, if there is any mold on them, it shouldn't be mycotoxin producer.
3. Will Used Coffee Grounds Hurt Plants?
No, used coffee grounds will not hurt plants. They are a great source of nutrients for them.
4. Can You Put Too Much Coffee Grounds In Compost?
No, there is no real benefit of adding too many coffee grounds to compost is no real benefit. It's better to add just a few tablespoons per batch of compost.

If you add more coffee grounds, it will make the soil acidic and can harm the plants.
5. What Is White Mold On Coffee Grounds?
White mold is fungal growth on the coffee grounds. When you keep the brewed coffee grounds in the open, it attracts this type of mold quickly.