The top-heavy Aloe plant is often a cause of concern for gardeners. The main concern for such plants is that they are more likely to topple over and break their stems.
So, how do you fix this issue? In the following guide, I have put together some tips to revive your Aloe plant from this condition.
Jump To:
How To Revive A Top Heavy Aloe Plant
The top-heavy Aloe plant can be a unique problem in your indoor garden, and you must tackle it according to the situation. So, here are a few things you can do with such plants -
1. Harvest The Large Leaves
It is the best thing you can do to manage such a heavy and oversized plant.
Prune the leaves and use them if you want. You can also store the pulp or leaves in the refrigerator to use them later. Or you can throw them away if you can't use them in any way.
It will at least make the plant lighter and more manageable in the true sense.
2. Wait For The New Aloe Vera Pups
The other thing you can do is wait for the new pups to arrive from the mother plant.
If you take care of the top-heavy Aloe plant for a few weeks, you will see small pups around it. Once you see these pups, you can put them in small pots and grow them as individual plants. As for the main plant, you can harvest the leaves or plant them somewhere in your garden.
You can also try propagating the leaves if you want more new plants.
3. Place A Stake In The Pot
This will help support your top-heavy Aloe plant as it grows.
You can use a bamboo stake or any other type of thin, strong support. Push it into the potting mix until it is secure.
Besides, you should also top dress your Aloe plant with fresh potting mix. This will give your plant more support as well as nutrients at the same time.
4. Repot The Plant Into A Large Pot
An Aloe plant that is top-heavy and leaning needs to be repotted or transplanted in a pot that is not too narrow or small.
That's right! You should always look for a bigger pot whenever you want to transplant such a top-heavy plant. The new pot will allow the plant to grow further.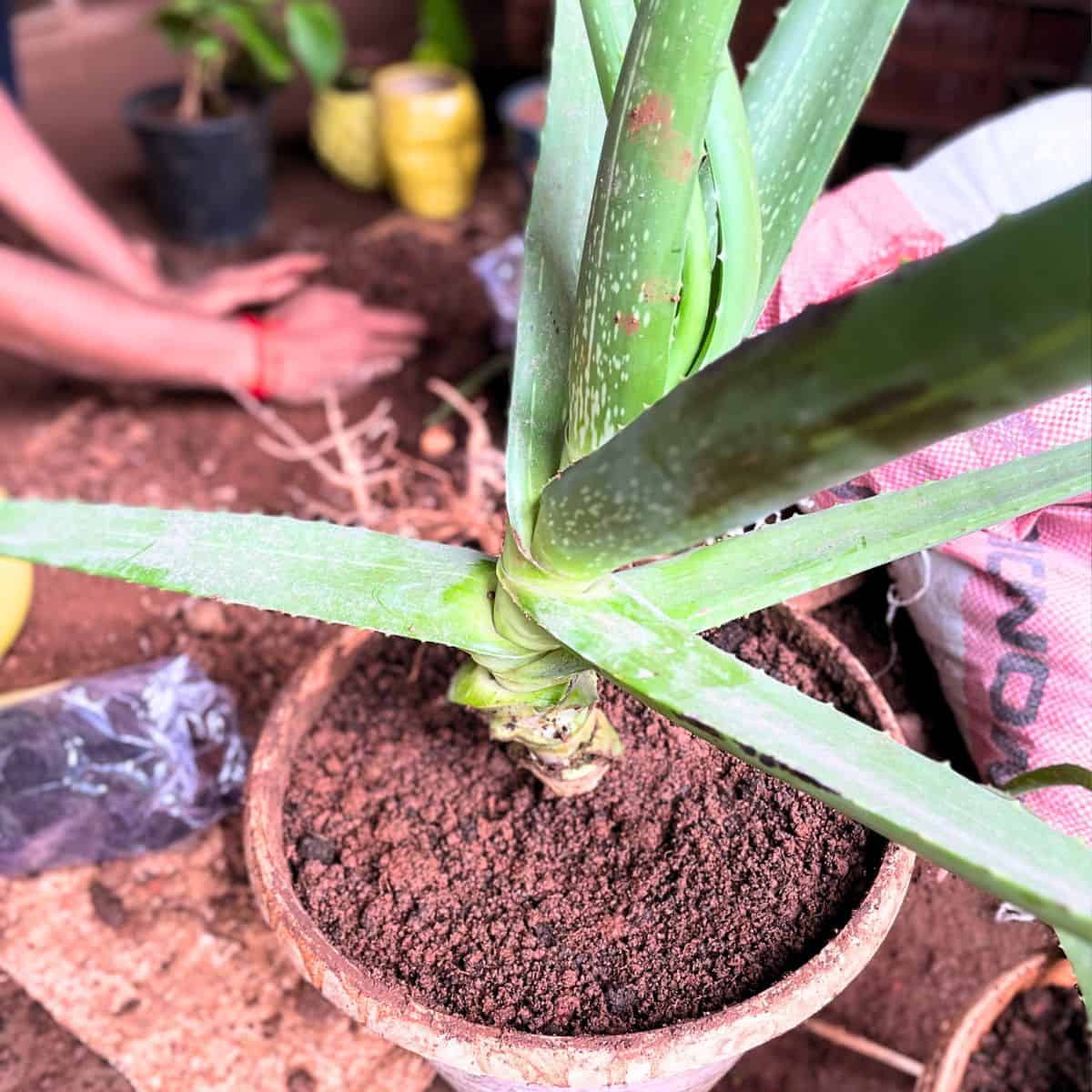 Of course, don't forget to remove some of the large leaves before placing the plant into this pot. It will not only increase the airflow among the leaves but will also help in promoting new growth in the pot.
The only downside of this tip is Aloe plant is an invasive plant. And it will eventually outgrow the new pot as well. So, technically, there is no point in repotting or transplanting the Aloe plant into a bigger pot. That's when the next solution comes into the picture.
5. Move The Aloe Plant To An Outdoor Garden
Well, that's the last viable option you have!
When the Aloe plant reaches a certain stage of its life, it's better to move to an open space than to put it back in the pot. It just gives the plant a new life!
Note: Aloe Vera can be an invasive plant, and it will take up all the empty space yo your garden.
So, be careful while planting such plants in open spaces. You should also check with the local authority for the rules and regulations for planting such species in your area. If they allow you to plant your Aloe in an open space, there is nothing like it!
But make sure you maintain the plant well and remove any new pups as soon as possible.
6. Discard The Plant
Well, that's the saddest part!
And you should only do it if you have explored all the above options.
If you are someone who loves your plants, you'd never want to discard such a big plant. But at times, it's better to remove it from the pot and replace it with a smaller plant. The small Aloes look really cute and are much easier to manage in indoor gardens.
How To Trim Your Top Heavy Aloe Plant
As mentioned earlier, trimming can effectively manage such a plant in your indoor garden.
So, here's how you should go about this process -
1. Pruning
Use a knife or gardening scissors that are sterilized for the trimming process.
Also, make sure the tool you use for pruning has a decent sharpness. Otherwise, you would find it difficult to cut the large leaves from your Aloe plant.
2. Cutting Damaged Leaves
Start with the leaves that have gone bad first. Trim any leaf that has dried up, turned brown, or is dead.
Perform this step gently, as you should be careful not to cut fresh leaves accidentally. The best thing about this technique is that you don't have to put much effort into removing the dead and damaged parts. They come off easily from the plant.
The other benefit of removing such leaves is freeing the plant from not-so-useful leaves.
3. Trim Outer Leaves
Try trimming the outer leaves to ensure that the plant fits in the pot and has plenty of room to grow.
The outer leaves are also the oldest, which means they contain the most Aloe gel within them. And you can use or store this gel if you want. Also, trimming outer leaves will allow the air to pass through the previously hidden parts of the plant.
This means the plant will have a more dry surface. And it is always good for the plant, as it will help prevent fungal growth.
How To Harvest Aloe Vera Leaf From Plant
Harvesting an Aloe Vera leaf is easy and does not take too long. All you need is a sharp knife, a cutting board, a jar with a lid, and a mature plant or a pre-cut leaf.
Using a sharp knife, cut as close to the stem as possible.
Place the cut leaf on a flat surface, and let the sap flow from the cut part. After this, rinse the leaf and dry it with a cloth.
Place the leaf on the cutting board and remove the skin with a sharp knife.
Remove the skin until a fresh, white layer is exposed. That part is the gel of Aloe Vera. You can use this gel after a quick rinse for any practical purpose.
Note: Do not attempt to cut using only your hands, as this may damage the Aloe tissue.
Now, let's see how you can repot the plant at home.
How To Repot A Top Heavy Aloe Plant
Here are the steps you need to follow -
Cut off a good bit of the base, and let the cut form a callus for a few days.
Leave the leaf alone until it is completely dry and a thin layer of skin forms over the gel.
The ideal time to leave the leaf by itself to dry would be 2-3 days.
Next, fill a pot with a loamy mixture and insert one-third of the leaf into the soil and sprinkle some water on it.
The soil must always remain moist during the first month of this transplant, but it should not be fully wet. Soon, it will begin developing roots.
The Aloe Vera plant does not require much water, so you can water it once a week and place it near a window.
And that's all there is to repot the Aloe plant. If you don't want to transplant the plant into a new pot, repotting is the best alternative option for your top-heavy plant.
5 Tips To Help Aloe Plant Grow Better
Not sure how to care for your top-heavy Aloe plant?
Here are a few tips that might help in understanding the whole process -
1. Select The Right Container
The container the plant is kept in should have drainage holes for good drainage and space for the roots to spread out.
Drainage holes also help in avoiding issues like root rot. It is also essential to choose a larger pot for your Aloe plant.
2. Use Well-Draining Potting Soil
The soil mixture should be well-draining.
If you cannot make your own, get a potting mix suitable for cacti. The mixture should contain perlite or sand.
3. Provide Sufficient Sunlight To Your Aloe
The plant should be kept where it can receive plenty of sunlight. 
If your home does not get a lot of sunlight, you can use artificial lights, too.
4. Check The Temperature Requirements
The ideal temperature is 55-80 F(13-27C). So, you will have to adjust the placement of your Aloe plant accordingly.
5. Water Your Plant Properly
The plant needs to be watered well, and the remaining water in the pot must be drained thoroughly. Before watering again, dip your fingers into the soil to see if it is completely dry; only then should you water again.
As mentioned earlier, Aloe doesn't require a lot of water. And it can easily survive for a few days if you forget to water it.
In the following section, I have shared answers to some of the frequently asked questions. If you have any related questions about this topic, do check out this section.
FAQs
1. Why Is My Aloe Plant Growing Sideways?
The most common reason for Aloe to grow sideways is the direction of the light source. This happens especially when you place the plant near the window, the plant will start leaning over the direction of sunlight over time.  

2. Can I Cut The Top Off My Aloe Plant?
No, it is advisable to cut the entire leaf from the stem if you want the plant to grow well. A damaged plant will not grow just by cutting off its tip. 
3. Why Is My Aloe Plant Falling Over?
Aloe plants need to have at least 6 hours of direct sunlight. Without sunlight, your plant will start drooping and falling over. 

Another reason for your Aloe drooping or falling over can be a lack of water. Aloe plants require very little maintenance but providing them with adequate sunlight and water is essential.
4. How Can I Help Top Heavy Plant?
Top-heavy plants can be managed by pruning. However, do not cut more than 10% of the plant as it can harm the plant. 
5. Can You Regrow Aloe Plant From A Leaf?
Yes, it is possible to regrow Aloe Vera from the leaf.