How do you make your Lucky Bamboo grow tall?
That's the question many gardeners face when they don't see much growth in their plants!
If you are also struggling with the same problem, the following guide will help address some of the issues.
So, let's get started with the guide!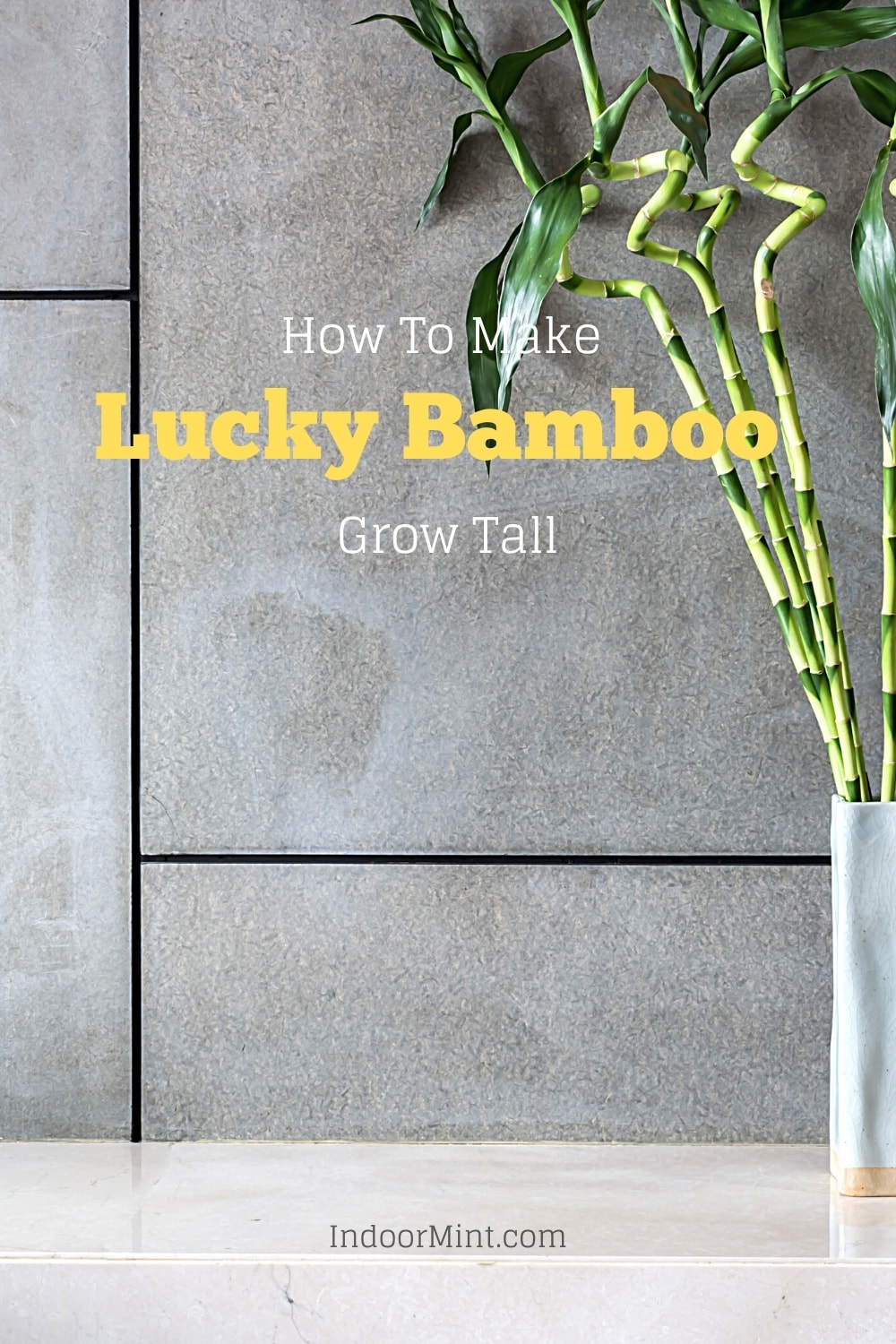 Why Is My Lucky Bamboo Plant Not Growing Tall?
Here are some of the reasons for this issue –
1. Lack Of Sunlight
The Lucky Bamboo plant thrives in sunlight.
When you put this plant in natural light, you get to see some nice lush green growth.
Also, the stalks begin to grow taller in the process.
But if you don't provide enough sunlight to this plant, you will see stunted growth.
The color of leaves and stalks will also change to dark green if it stays in dark conditions for a long time.
Having said that, you don't have to put it in direct sunlight.
If you do, the leaves will immediately change their color to pale green or yellow.
They might begin to curl as well.
The stalks will probably get wrinkles due to overexposure to the sun.
So, you need to be careful while addressing the sunlight issue.
2. Not Enough Space In The Pot
This might be the possible cause of this issue in your plant.
When the plant doesn't grow tall, it could mean there isn't much space left in the pot.
Generally, we get many plants in a single pot when we get them from a nursery or garden center.
These plants look great together, but this type of setup is not great for the plant's growth.
If you want to grow your Lucky Bamboo tall, you need to provide sufficient space in the pot.
3. Insufficient Nutrients In The Soil
Have you been feeding your plant regularly?
If the answer is no, you might find it difficult to see any growth in the stalks of this plant.
Along with the sunlight and decent environmental conditions, this plant also needs adequate nutrients for growth.
Without them, your plant will not grow as expected.
Moreover, its condition might deteriorate if you continue to grow the plant this way for too long.
These are the three main reasons you'd face difficulties in making your plant grow tall.
There might be other conditions that may play a role in the plant's growth, but the ones mentioned above will have a bigger impact on the plant.
Now, let's check out the following sections where I've shared some useful tips related to this topic.
7 Tips To Make Your Lucky Bamboo Grow Tall
Here's how you can fix the growth in your plant and grow it taller –
1. Keep Your Plant In Natural Sunlight
It's the first thing you should do if you feel not much growth is happening in your Lucky Bamboo plant.
This plant loves natural light.
So, you should find a spot in your room where it can receive enough sunlight throughout the day.
Generally, it should get around 3-4 hours of natural light.
However, as mentioned earlier, you should keep this plant away from direct sunlight.
Overall, this should fix the problem in your plant, and it will grow much taller as soon as it receives a good amount of sunlight.
In case you can't provide natural light to this houseplant, you can try growing it under artificial lights.
Keep your plant directly under such light and see how it responds to this new setup.
The growth rate may not be as significant as you'd get in natural light, but it's still worth trying.
2. Change The Soil If Needed
If you have been growing this plant in soil, you can think of replacing it with a fresh batch of soil.
When we bring such plants from nurseries, they mostly fill the pot with any general-purpose soil that may not have adequate nutrients for the plant.
This is why you don't get to see the desired growth in the plant.
While replacing the soil, make sure you add well-draining soil to the pot.
Use this type of soil for your plant, as drainage is equally important for houseplants.
You don't want your plant to sit in wet soil for long.
3. Fertilize The Plant Before The Growing Season
Similar to repotting, you should also provide fertilizers to your Lucky Bamboo plant.
Fertilizers will help in achieving exponential growth in the plant.
It will not only increase the height of the plant, but you will also see some great improvement in the leaf structure.
You will see quite a lot of new leaves coming up from its nodes.
As for the usage, you should fertilize this plant every three months or so.
If the plant is relatively big, you may increase the frequency.
Apart from that, you should also think of fertilizing the plant before the growing season.
The months of summer and spring are perfect for seeing some natural growth in the plant.
4. Water It Regularly
The above three suggestions are an absolute must for your plant, as you'll likely see results using them.
But you shouldn't forget the basic guidelines that need to be followed in this process.
This plant requires enough water, and you should provide it regularly.
If you don't follow the right watering frequency, the plant might not grow as tall and wide as expected.
5. Support The Plant With Some Stakes Or Strings
When the Lucky Bamboo plant is in its growth phase, you should support it with some stakes.
This way, the plant will get the much-needed support to grow in a straight upward position.
If not, you can also support it with the help of an adjacent wall in your room.
6. Transplant The Lucky Bamboo Plant
Transplanting this plant won't make it tall, but it's always a good idea to improve the overall growth of the plant.
When the plant becomes rootbound in its existing pot, you should separate some of the stalks and plant them in new pots accordingly.
With this technique, each plant will get enough space to grow further.
Also, when you transplant the plant, make sure you use a bigger pot for future growth.
Do not use a similar-sized pot, as you will have to perform the same transplanting process after a few months.
7. Do Not Move It Frequently From One Place To Another
Many times we feel like moving our plants from one place to another, especially when they are kept in indoor places.
But this should be avoided completely.
If you are looking for steady growth in your plant, you must keep growing it in the same place for a long.
When you change its location frequently, you basically change the environment around the plant.
Due to this, the plant doesn't get enough time to acclimatize to one place.
As a result, you won't see the growth you'd like to have in your plant.
Well, these are the things you need to work on if you wish to see a tall Lucky Bamboo plant at your home.
In the next section, let's take a look at the FAQs related to this topic.
FAQs
1. What Do I Do If My Lucky Bamboo Is Too Tall?
You can resort to pruning techniques to cut off the excess growth in your plant.

That's the only way you can manage the tall plant in your home.
2. How Tall Does Lucky Bamboo Grow?
This plant can grow as high as 5 ft tall and 3 ft wide. 

But it all depends on the growing conditions and available pot size.
3. How Long Do Lucky Bamboo Plants Live?
This plant can live for a decade if you grow it in the soil medium.

For the water-based pot, the lifespan of your plant will reduce to 1-2 years.
4. Can I Grow Lucky Bamboo In Water?
Yes, it can grow in water very well.
5. Do Lucky Bamboo Stalks Grow?
Yes, the Lucky Bamboo stalks can grow as long as they have enough nodes on the surface.

The rooting process may depend on some other factors too.