Spider plant babies with no roots can be propagated using the water propagation method.
If the spiderettes are attached to the stem, don't remove them from the mother plant. Place the stem in a glass of water and wait for root formation.
Once the roots are formed and spiderettes have grown in size, cut them from the main stem and put them in the soil.
In this guide, I have shared a few more methods to propagate the rootless Spider plant pups. Let's look at them below.
Jump To:
Spider Plant Baby Not Growing Roots (Causes)
There are many reasons why the Spider plant babies won't grow roots at the base, which include -
Immature baby plants
Cold weather
Hot weather
Underwatering
Fungus infestation
Root rot in the main plant
Small pups may not grow roots due to various causes. However, an underdeveloped stage is likely the reason for your plant.
As you can see below, the pups on my Spider plant are still underdeveloped and don't have roots at the bottom.
In this stage, the pups solely rely on the mother plant for their food and water requirements. The long stem connected to each plant works as a medium to supply everything to the baby plants.
When the Spider plants produce pups, they don't grow roots immediately. The pups take several days or weeks to grow roots at the base. So, you just need to be patient for a while.
Propagating Spider Plant Babies With No Roots
There are two ways through which you can propagate rootless pups of your Spider plant -
Soil Propagation
Water Propagation
Water propagation is more beneficial in this case, though. Since there are no roots under your Spider plant babies, water will allow seamless root formation for them.
If you put them directly in the soil, they might catch fungus or bacterial infection. Ultimately, it will hinder root formation, and the pups won't survive for long.
That said, if you want to try the soil propagation method, you can go ahead with it.
Let's look at the step-by-step guide to root Spider plant babies.
1. Cut The Stolon And Separate The Spider Plant Babies
Firstly, cut the stolon from the mother plant and separate the Spirederettes from it. 
For this purpose, use sharp scissors. It will help you make a precise cut.
The stem should look like this after cutting -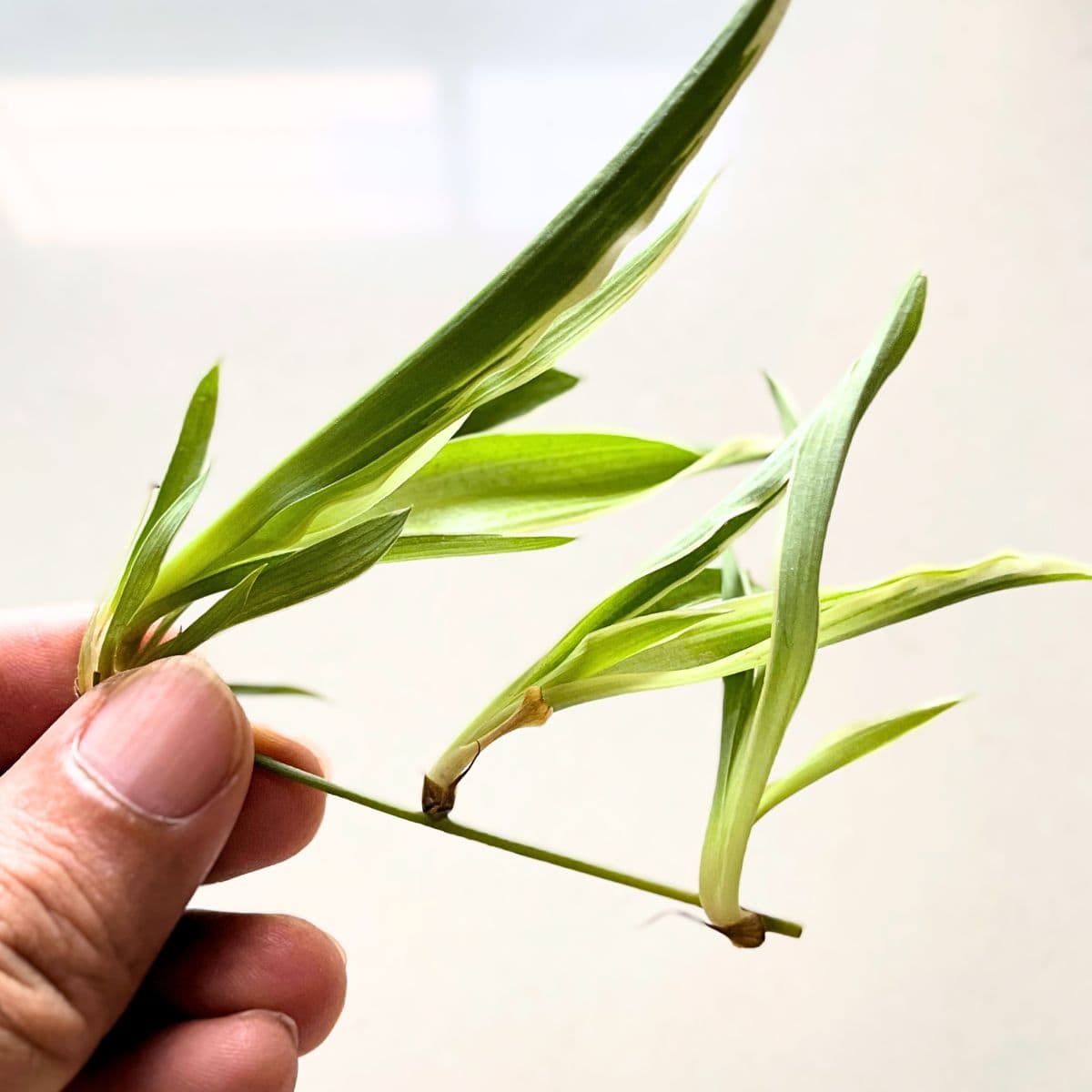 Once the entire stolon is separated, remove the small plants carefully. Do not damage the leaves or any other parts of the plant.
2. Clean Them With Water
Cleaning baby Spider plants not only removes dirt but also alleviates the stress of separating them from the main stem.
So, clean them properly with tap water. Make sure you remove any dead and damaged leaves at this stage.
3. Put Them In A Glass Of Water
Once you have cleaned the baby plants, place them in a glass of water.
You can use tap water for this purpose. Do not use contaminated water, though. It will cause harm to the small plants, and they may not develop new roots.
Important: The plants need to float on water. Don't submerge the leaves in water, as it will hamper the growth.
4. Wait For Root Formation
It will take 2-3 weeks to see new roots at the bottom of the Spiderettes. So, you will have to wait for some time to see actual growth in your plants.
Moreover, you should use any fertilizers at this stage. Simply change the water every 5-7 days, and that's more than enough for root formation.
Even if you see some growth initially, don't rush into transplanting them into new pots. Wait for them to attain at least 1-2 inch root growth.
5. Transplant The Grown-Up Plants Into The Soil
The last step of the process is transplanting the grown-up plants into the soil.
In this step, you just have to remove the baby plants from the glass and put them in small containers. At this stage, you won't need bigger pots. So, go for relatively smaller pots.
For the soil, use general-purpose gardening soil. You can add some coconut coir for better water retention.
Once placed in new pots, keep them in a shaded place for a few days.
You can move them to bright light when they are acclimatized to the new environment.
Soil Propagation
The second method is the soil propagation method.
For this method, you should take the plantlets and gently place them in small pots.
The pots should have well-draining soil.
You can also use a combination of peat moss and regular garden soil for this purpose.
Note: Your plants don't need fertilizers at this stage, so it's better to avoid them entirely. In fact, they might burn the tiny roots and hinder the root formation process.
Guidelines for Soil Propagation
Don't overwater the pot.
Don't remove the plant from the pot to confirm the root formation.
Keep the pot away from direct sunlight.
Don't mist the plant.
Do follow these suggestions. I'm sure you will see the Spider plant babies thriving in a few weeks.
How To Propagate Spider Plant Using Babies
Watch the following video to learn more about the entire propagation process -
Use Rooting Hormone Powder
The rooting hormone powder can be a great option to see some quick growth in your baby Spider plant. It helps promote root growth in young plants.
It is specifically used in nurseries where they need to grow plants quickly.
How to use -
Dip the bottom part of the Spider plant baby in the powder.
Dust off the excess powder on the plant.
Place it in a pot.
That's how easy it is to use rooting hormone powder on your plants.
You can also propagate the plants without using this powder. It's not too essential.
FAQs
1. How Do You Root Baby Spider Plant?
You can root baby Spider plants using water propagation and soil propagation. Both these methods are effective in rooting the new plant.

There is one more method through which you can achieve similar results.

It's called the paper towel method. For this process, wrap the base or nubs of baby Spider plants and spray water on the paper.

Keep them wrapped for 5-6 days, but make sure the towel is slightly moist all the time. You don't want to let it dry out completely.

After a couple of weeks, you will see more prominent growth in the roots.
2. How Long Do Baby Spider Plants Take To Root?
It takes up to two weeks to root baby Spider plants.
3. Can I Leave The Babies On My Spider Plant?
Yes, you can leave the Spider plant babies on the mother plant.

Of course, they won't grow as big as the main plant, but they will do just fine for a long period. Ideally, though, it's better to remove them from the mother plant and transplant them into a new pot.

4. Can Spider Plants Live In Low Light?
Yes, the Spider plants can live in low light, but you won't see the expected results in such conditions. Put them in a bright spot for better growth.
5. Can You Propagate A Spider Plant From A Leaf?
No, you can't grow a new plant using Spider plant leaf. The leaves of this plant do not support leaf propagation like succulents.