Overwatering is the main reason for the mushy Snake plant leaves issue, and it can be devastating for your plant if left untreated.
You can revive the plant using different methods, including removing the affected leaves from the plant, fixing the watering frequency, and repotting the plant.
Let's learn more about this issue and its solutions in the following guide.
Jump To:
How To Fix Snake Plant Mushy Leaves
Here are a few tips that can help you fix the problem -
1. Remove Mushy And Dead Leaves
If you notice any mushy or dead leaves on your Snake plant, remove them immediately. You can do this by cutting them off at the base with a sharp knife or scissors.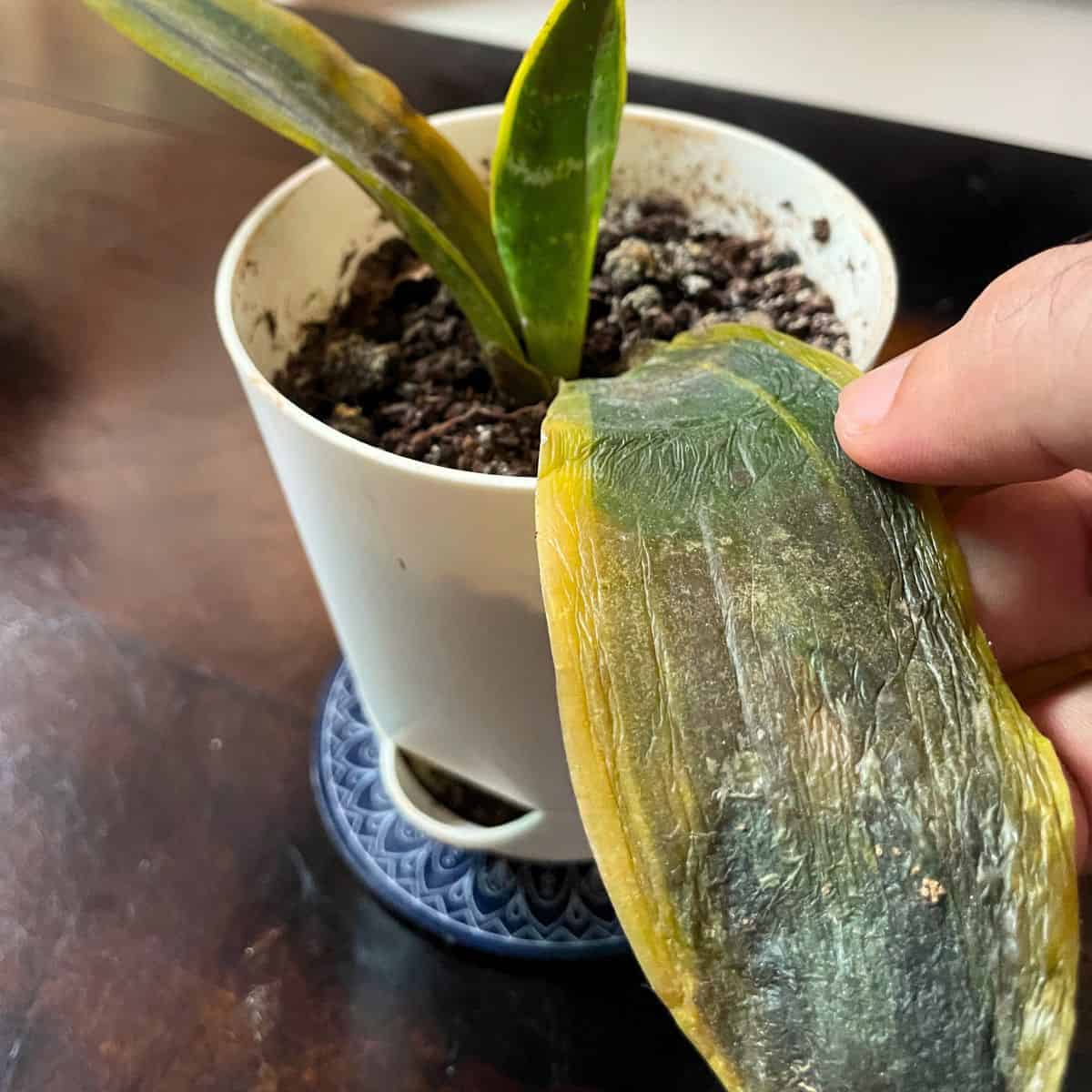 You can also pluck them directly if they are too soft. Don't pull them off harshly, as it can damage the leaves and stems. It will also help avoid the spread of fungal issues.
Fungus attacks can be brutal on plants. So, it's always better to take preventive measures. Once you remove these affected leaves, it will help the plant produce new leaves.
Here's how the affected leaf looks after removing from the plant -
As you can see, the leaf looks dull and rotten at the base. Therefore, it's better to discard it entirely. Don't try to root this leaf, as it will continue to rot in the new pot as well.
2. Don't Overwater Your Plant
This is the most important tip. Water your Snake plant only when the topsoil is dry to the touch. You can check this by sticking your finger into the soil.
If it feels dry, it's time to water your plant. That's the easiest way to know whether your plant needs water or not.
If you are not sure, it is always better to under-water than overwater. It's perfectly fine for Snake plants to go for a week or two without water.
3. Use Well-Draining Soil
Drainage is critical for Snake plants. The soil must be able to drain the excess water quickly. Otherwise, the roots will sit in water, which will lead to root rot and mushy leaves.
You should use a well-draining potting mix or make your mix by adding perlite, pumice, or sand to regular potting soil. This type of soil mix will help improve drainage and prevent the roots from sitting in water.
4. Use A Pot With Drainage Holes
Many times we receive plants in pots without drainage holes, and we think it's okay to transfer them to our favorite pots without adding drainage holes.
If that's the case with your Snake plant, it could be the reason for mushy leaves. So, use a pot with drainage holes to prevent water logging.
If the existing pot doesn't have drainage holes, you can drill some holes in the bottom before potting your plant. It will save your plant from root rot and mushy leaves.
5. Maintain Proper Humidity
Snake plants prefer dry conditions. They don't like high humidity. If the humidity is too high, it can cause the leaves to rot.
When the leaves turn mushy, it's a sign that the plant is not doing well. It might already be experiencing root rot. So, you should consider arranging for better ventilation if you live in a humid region.
You can also use a dehumidifier to keep the humidity in check. Once the above-mentioned issues are solved, you will need to make sure of a few other things for the plant to return to its usual condition.
Do not water the plant once you have re-planted it in new soil. Give the roots time to recover, and in the meanwhile, keep the plant in a well-lit and sunny place.
Trim the infected parts of the roots so that the plant can grow back.
Use a suitable fungicide to help the roots heal after trimming.
Regularly examine the root system of the plant for signs of root rot. Do not uproot the plant entirely in this process. Gently lift the plant and check the roots if you feel like the Snake plant is turning mushy.
Signs Of Overwatering In Snake Plants
Overwatering a Snake plant does not require carelessness; it can happen to anyone, even if you are extremely particular about watering it. Snake plants are prone to overwatering, and this is something you should know before getting one!
Here are some signs of an overwatered plant -
1. Mushy And Soggy Leaves
Snake plants store water in their leaves, and overwatering causes them to store more water than they need; causing the leaves to turn soft and mushy. Another sign of this is when leaves appear wrinkled and moldy.
Usually, the leaves will begin to turn mushy at the base. So, you need to watch out for these early signs.
2. Brown Spots And Wilting Leaves
Brown spots and wilted leaves are hard to miss. You can notice them appearing on the plant when you water the plant inconsistently.
Overwatering is one thing, but watering inconsistently can also damage the growth of the plant. You might avoid watering for a few weeks and then give the plant too much water all at once. This practice is wrong and can be detrimental to the Snake plant's overall growth.
Learn more about various spot issues on your Snake plant in the following video -
3. Root Rot
Root Rot is not apparent unless it starts spreading to the leaves.
When the plant's roots turn soft and brown, you will know that root rot has set in. Moist roots make excellent conditions for bacteria to thrive.
Bacteria can be good for plants sometimes, but bacteria that are attracted to moist conditions damage the plant. Root rot also has an awful smell when the roots decay further. The fresh roots are supposed to be white and fairly tan, not soft and brown.
4. Soft And Yellow Leaves
Yellow leaves are a surefire way to know the plant has root rot.
When the soil is unable to provide nutrients to the plant, the lush green of the plant begins to fade away and give way to yellowing. Yellow foliage is a sign that the plant is stressed and in need of immediate attention.
5. Droopy Leaves
Once root rot sets in, the plant cannot provide adequate nutrients and hydration to the leaves, which leads to the leaves wilting, turning slimy, and falling off.
Tips For Watering A Snake Plant
Snake plants do not need a lot of water to thrive. These plants are easily overwatered, so do not go overboard while trying to water your snake plant.
Here are a few things to remember while watering your plant:
Check the soil before watering. Touch the soil with your hands, and it should feel dry and gritty. If it is not, then wait for a couple of days to water the plant. Moist soil needs to be completely dry before you water the plant again.
Larger Snake plants require more water than smaller-sized ones. Water these accordingly.
Do not mist your plant at any time. You might be tempted to mist or water the plant during hot or dry days, but this will only lead to root rot.
FAQs
1. How Do You Fix An Overwatered Snake Plant?
First thing you should do when the plant shows signs of being overwatered is to change the soil and trim the brown and soft parts of the roots. 

Once the plant is repotted, do not water it for some time. It will allow the plant to heal from being overwatered. Also, place the Snake plant in an area where it can get plenty of sunlight. 
2. What Does A Rotting Snake Plant Look Like?
A rotting Snake plant will have mushy leaves with brown spots, yellowing or wilting leaves, and a brown and soft root system.

These signs are easily identifiable because the Snake plant has straight-standing and shiny leaves. When the plant is affected, the leaves will begin wilting and lose their radiance. 
3. Should I Cut the Droopy Leaves Off My Snake Plant?
You can cut the droopy leaves if they are damaged and cannot be revived.

However, if the leaves are merely drooping and looking dull, you can revive the plant instead of cutting them off.
4. How Do You Know When Your Snake Plant Needs Water?
Water the Snake plant only when the soil is dry and feels crumbly when touched. Snake plants thrive in dry climates, so it is better to water them once every two weeks.