Companion planting is a common practice in gardening as it benefits the plants and the gardener! Grouping plants can expand your garden and add vibrancy to your home. 
If you have a Pothos, known as Devil's Ivy, you already know that it is one of the best houseplants to have, owing to its flexible care needs. Adding other plants to the mix will enrich the pothos immensely. 
So, if you are looking for companion plants for your pothos, keep reading! 
Jump To:
Can You Plant Pothos With Other Plants?
If you are a gardening enthusiast or simply someone who wants to expand their home garden, consider adding companion plants for your pothos! Companion planting is mixing two or more plants, granted the conditions are right, in one planter. 
The mutual partnership between these plants helps them grow. The plants can share nutrients and shade and provide physical support to each other. 
First, you will need to research plants that are good companions for the pothos. These plants will need to have the same growing needs as the pothos or at least complement the requirements of the pothos. Some plants that can be planted together with the pothos are - spider plants, jade plants, asparagus ferns, and butterfly palms. 
10 Best Pothos Companion Plants
All the plants mentioned in this list have qualities similar to the pothos, which is why it is easier to plant them together. Ensure that all the plants receive adequate watering, a balanced amount of sunlight, and plenty of space to grow. This will result in a successful garden full of thriving plants. 
1. Snake Plant
For those who love low-maintenance but elegant plants, the Snake plant is a perfect pair for the pothos. Both these plants can tolerate a bit of negligence and low-light conditions, which make them great companions. 
Snake plants are sensitive to too little or too much watering. Usually found in tropical conditions, this plant grows up to 3-4 feet in height and has different varieties that you can choose from. 
The long, straight leaves have a distinct look that can add a pop of color and brighten up any room they are planted in.
2. Jade Plant
The Jade plant is a striking plant, and its leaves resemble the jewel stone it is named after.
This plant is succulent and quite attractive with its bright and glossy leaves. Like most succulents, the Jade plant is hardy and can tolerate drought-like conditions. But regular watering will help the plant thrive. 
The typical height for this plant is 18-24 inches. Jade plants are not too fussy about their light conditions, as they can grow in the shade and the sun. Too much sun can cause the leaves to turn red, which can also be a warning sign of underwatering. 
Occasionally, the plant also blooms with white and pink flowers.
3. Ficus Benjamina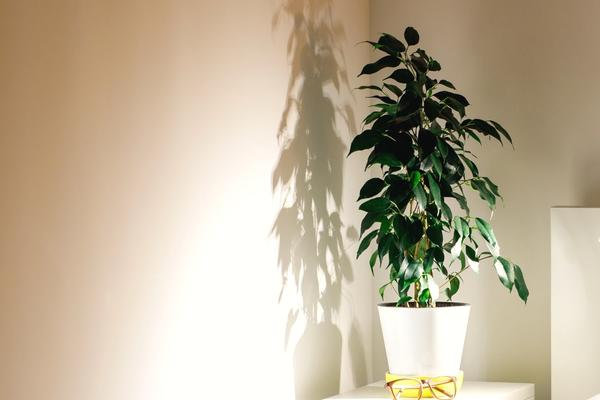 Weeping figs make great companions for pothos because they share similar watering needs. They also both prefer bright, indirect light.
The Ficus plant is relatively easy to take care of and can live for many years under the right conditions. This is why it can be a terrific addition to your home garden.
4. Begonia
I know Begonia is an unusual choice for a companion plant, but hear me out.
Both plants enjoy similar light conditions. Begonia does quite well in shady areas, so it can provide some much-needed relief for pothos in the too-sunny regions.
In addition, it can help in adding some color to your indoor garden. The leaves of the Begonia come in a wide range of colors, so you can mix things up and create a beautiful display.
Last but not least, both plants are relatively low-maintenance, so you won't have to spend too much time taking care of them.
5. Spider Plant
Naturally found in the tropics, the Spider plant is named after its uncanny resemblance to a spider web. The plantlets droop gracefully from the plant's center stem, making the entire plant look like a web. 
Green, thin and springy, the leaves of this plant give a unique look to the plant and requires watering regularly. Overwatering can lead to excess moisture in the soil, which will lead to rot. 
A balance between sunlight and shade is ideal for this plant, and it should preferably receive around 6 hours of daylight. These plants grow up to a height of about 25 to 30 inches. 
Durable and strong, Spider plants will particularly complement pothos. 
6. Asparagus Fern
In contrast to the Pothos' thick, green leaves, the Asparagus Fern has feathery and light fronds. Arranged together, these two plants are lovely to have in your home or garden. 
This plant grows wide, almost 2-3 feet if given the space to grow. The fern is also a tolerant plant that does not need too much water to survive. 
A suitable potting mix, regular watering, and a balanced mix of sun and shade are all that a fern needs to grow well.
7. Monstera
Like Pothos, Monstera likes less water and bright, indirect light.
The big leaves of the Monstera will also help create more shade for the pothos, which is something that it appreciates. All in all, these two plants make wonderful companions for each other.
8. Butterfly Palm
The Butterfly Palm, also known as Areca Palm, is an ideal houseplant for those who want a tall plant with nicely spread-out green leaves. 
The plant is eye-catching and is also known for its air-purifying qualities. This plant is considered one of the best when it comes to cleansing harmful elements from the air. 
When mature, the palm grows up to 6-8 feet in height. As long as the Butterfly Palm receives proper watering, good drainage, and absorption in its soil mix, it will thrive. 
9. Ponytail Palm
Shaped like a Ponytail, this quirky plant is one of the easiest houseplants to grow. This plant complements the modern architecture and interior design, and young palms make perfect tabletop accessories. 
Since this plant is a slow grower, you can place it in different parts of the house, depending on its size. Its care needs match those of pothos, which is why these two plants will be great companions. 
10. Philodendron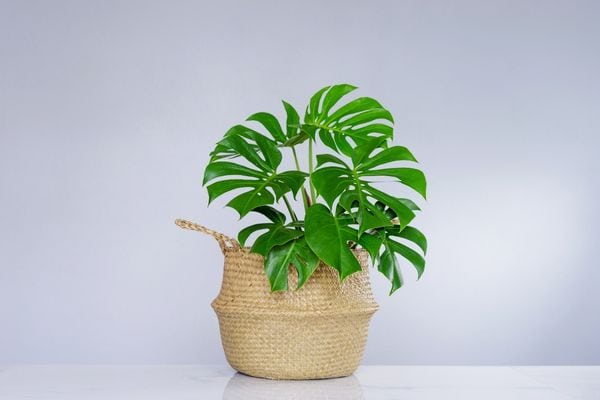 Lastly, Philodendron can be an amazing companion for the pothos too!
When planted together, they create a tropical look in your home. Moreover, both plants are known to be natural air purifiers, so they can help improve indoor air quality.
Now that we have seen the companion plants for pothos, let's have a look at the FAQs below.
FAQs
1. Can You Plant Pothos and Spider Plants Together?
Pothos and Spider Plant make excellent pairs. The level of care these plants need is similar, and growing them together will benefit them greatly. It is also a bonus that planting them together will spruce your garden or living spaces! 
2. Can You Plant Pothos and Philodendron Together?
There is no reason not to do so! These two plants belong to the same family, Araceae, so it will be easier for them to be planted together.

Just provide plenty of space and avoid watering often, and the pair is good to go! 
3. Can I Plant Different Types of Pothos Together?
Yes, two different pothos will be compatible in the same pot. As long as their growing needs are similar, any two plants can be planted together in the same pot. 
4. What to Pair with Snake Plant?
Snake plants do well with Succulents, Marigolds, Variegated Ivy, Fittonia, Mandevilla plants, and Birds of Paradise. 
5. Do Plants Grow Better in Groups or Alone?
Growing plants in groups have its advantages. The plants will physically support each other, provide the required nutrients and shade, and be aesthetically pleasing as well.

If you have several plants in your garden, planting the ones with similar needs together is a good idea. However, if you want to spread your plants around the house, growing them by themselves is fine!