Peace Lilies are a beautiful plant to have around the house.
In tropical regions, this plant can be grown outdoors in the shade, too.
If you have a Peace Lily and are looking to experiment with companion planting, this guide is for you!
Companion planting can make you explore more houseplant options and introduce you to new varieties of plants that have the same level of maintenance needs as your existing plant.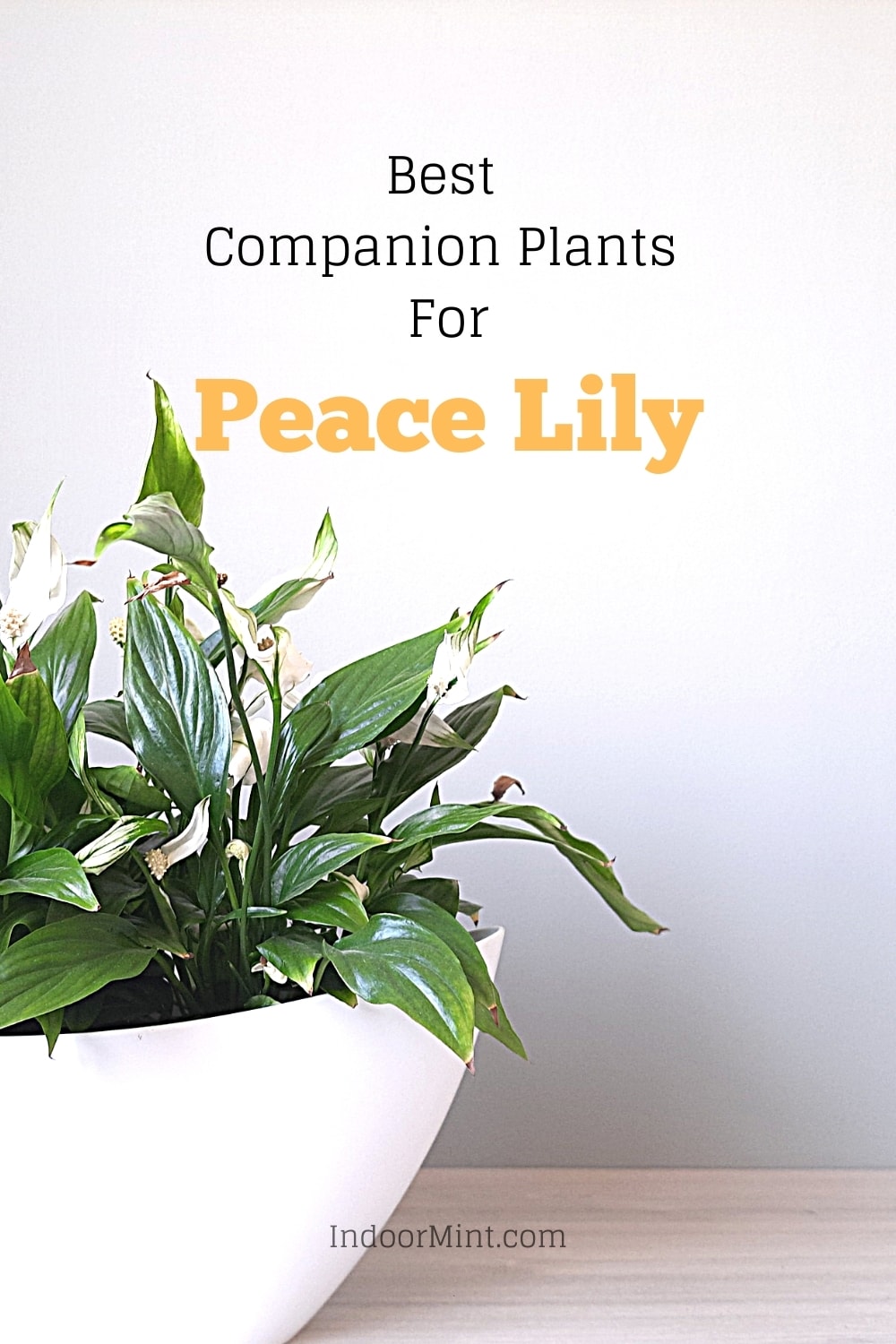 Jump To:
What Is Peace Lily?
Peace Lilies bear flowers throughout the year and are a popular plant in South Florida.
The sub-tropical climate of South Florida is perfect for this plant to bloom all year long.
What's better is that it does not only have to be grown indoors, as the climate remains is good enough for Peace Lilies to be planted outdoors, as well.
The plant is relatively small and grows up to a maximum height of 2-3 feet.
The ideal conditions for Peace Lilies are shady locations and well-draining soil.
Zone 10 temperatures favor this plant but planting it in Zone 9B can be done, too, as long you bring the plant inside during winters.
Forceful winds can tear the foliage, so make sure to protect the plant during windy days.
Adding peat moss or topsoil in the spot where it will be planted can help the plant's growth.
Additionally, pruning dead leaves or discolored flowers regularly can keep them healthy.
Sometimes the leaves will turn brown due to lack of moisture or over-fertilizing.
Just prune the browning leaves at the stem, and new ones will grow back again.
Water regularly but wait for the soil to dry before watering again.
The Lily does not need lots of food, so fertilizing twice a year (during autumn and spring) is adequate.
Can Peace Lily Be Planted With Other Plants?
Yes, Peace Lilies can be planted with other plants.
Companion planting has several benefits for the plants, and it will also colorfully enhance your existing garden.
The only thing you need to ensure is that the plants you choose to pair with the Peace Lily are compatible with the plant.
As long as their maintenance needs match, you can easily pair any plant with it.
Below are a few recommendations for Peace Lily companion plants.
6 Best Companion Plants For Peace Lily
Some of the plants that wonderfully complement your Peace Lily are:
1. Crotons
Popular in South Florida, this plant boasts vibrant red, yellow, pink, orange, and green foliage.
It is also low-maintenance and can be cared for by even amateur gardeners easily.
The leaves come in varying shapes and sizes, and they all have quirky names like Sloppy Painter, Ronald Reagan, Dreadlocks, and Eleanor Roosevelt.
This plant grows slowly, but it can grow tall if you allow it to.
Crotons can be maintained as a small shrub that grows up to 3 feet, depending on your garden. 
These plants do not mind any light- bright sunlight or shade, they will still thrive.
Their care needs are also quite similar to the Peace Lily, which is why it is easy to plant them together!
2. Cordylines and Dracaenas
The lush colors on the cordylines and dracaenas, along with their vibrant appearance, is a must-have in your garden!
Ranging from pink, green, cream, bronze, and red, these plants are absolutely eye-catching!
Cordylines and Dracaenas belong to two different plant families, but their growing needs are the same.
The long, spiky leaves of the dracaena and the broad, colorful leaves of the cordylines complement each other quite well, which is why they are often planted together.
Adding Peace Lilies to this mix will definitely upgrade your garden!
3. Butterfly Ginger
The Butterfly Ginger is one of the plants that come within the variegated ginger family.
Variegated ginger is a beautiful plant that is often used as a filler for empty garden spaces or planted around palm trees to give them a more exaggerated look.
When the Butterfly Ginger blooms, it produces small white flowers that become more fragrant during the night.
This plant, which grows up to 3 feet tall and prefers shade, is a good companion for Peace Lilies.
Both these plants can be planted on a porch or lanai so that the fragrant flowers can be savored.
4. Peperomia
Also known as the "baby rubber plant," peperomia is favored for being a ground-runner plant or as a plant that accentuates other plants in your garden. 
The broad and thick leaves of the variegated variety are a gorgeous blend of cream-white and green.
The non-variegated ones have the stunning color of jade-green.
Because this plant grows outward instead of upward, they barely reach a height of 12 inches.
Peperomia plants also love a good mix of sunlight and shade, and they grow quite slowly. 
Planted with Peace Lilies, these plants will make an impressive duo.
5. Caladiums
If you want to add color to your garden, caladiums are the plant you should grow!
Spectacularly pink, these plants hibernate throughout winter and rise during summertime to showcase their lovely leaves.
Having this plant in your garden can do wonders in terms of visual appearance.
Caladiums, like peace lilies, prefer full shade rather than light.
Planting these two plants near a porch can protect them from full sunlight.
As long as this plant receives adequate water and proper shade, it will thrive.
Consider planting it along with peace lilies for a remarkable garden.
6. Ferns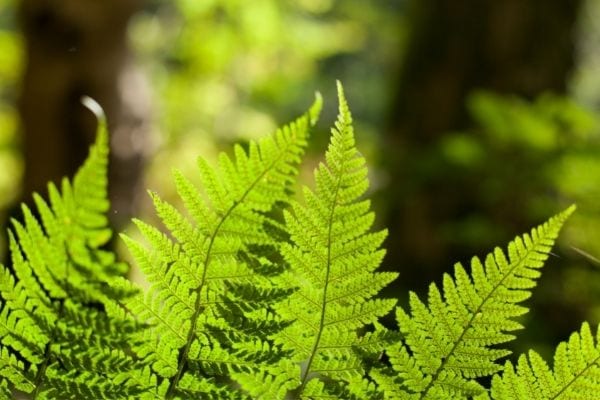 Ferns are a perfect companion plant.
These plants act as fillers for palm trees, and leggy plants and cover bare spaces with elegance. 
Some ferns you can use to plant along with Peace Lilies are foxtail, holly, fishtail, asparagus fern, and wart.
Ferns are fast growers, and they can grow up to 3 feet tall. 
Despite their seemingly delicate fronds, ferns are surprisingly resilient plants that can tolerate cold weather.
Planting ferns along with peace lilies can be beneficial for both the plants and for landscape purposes.
FAQs
1. What Indoor Plants Look Good Together?
There are many varieties of indoor plants that you can choose from depending on what you prefer.

While planting two different plants together, ensure they both are different appearance-wise.

For example, a tall plant like the Fiddle-leaf Fig can be matched well with the Pothos or Dracaena, as their looks complement each other.

You will also need to keep in mind that the plants you pair need to have similar care needs. 
2. What to Plant with Asiatic Lilies?
Any plant that does well in slightly acidic, moist, and well-draining soil can be a companion for the Asiatic Lily.

If you want a specific plant, look for Sweet Peas, Snapdragons, and Rudbeckia. 
3. What Does an Overwatered Peace Lily Look Like?
The leaves of the Peace Lily begin wilting, turning yellow or brown and eventually die if the watering issue is not immediately rectified. 

Peace Lilies cannot tolerate standing in wet or moist soil for too long.

Ensure that the plant is planted in well-draining soil and in a pot that has drainage holes. 
4. How Do I Get My Peace Lily To Flower Again?
Peace Lilies need to get bright but indirect sunlight for the flowers to bloom.

If the flowers are not blooming, it is most likely because of low-light conditions.

Improper fertilizing can also make the peace lily produce weak and green flowers. 

Provide your plant with the proper environmental conditions so that they are relaxed and can bloom again.

The right conditions include warm temperatures, bright light, and proper fertilizing. 

You can also deadhead the plant if you want it to bloom again.

Deadheading is the practice of pruning old flowers off the plant so that the Peace lily can conserve its energy for new blooms. 
5. Do Lilies Bloom More Than Once?
Peace Lilies bloom during the spring, and the flowers last for two months.

The Lily will bloom again during fall and then will go through a period of no-bloom.