What plants go well with Crotons?
This is the one question that people ask the most about Crotons.
Since the plant looks so beautiful with its vibrant leaves, you would think that it would be difficult to find plants that complement it.
But the truth is, there are a variety of plants that look great with Crotons.
In this guide, I have compiled a list of plants that can be used as Croton companions.
So, let's get started.
Jump To:
10 Best Croton Companion Plants
Whether indoors or outdoors, these plants will look great next to your Crotons.
1. Peace Lily
When it comes to Croton companion plants, the Peace Lily is one of the best.
It has lovely white blooms and also aids in the purification of the air.
Peace Lilies are easy to care for and thrive in low-light conditions, making them ideal for indoor gardens.
It also has large, broad leaves that provide the perfect backdrop for Crotons.
Therefore, the Peace Lily is a great choice if you're looking for a beautiful and functional houseplant.
2. Bromeliads
Bromeliads are another excellent option for Croton companion plants.
Like Crotons, they are native to tropical climates, and they come in a wide variety of colors and shapes.
They are drought tolerant and can thrive in both sun and shade.
So, if you neglect this plant, it will still do well.
What's more, Bromeliads produce beautiful flowers that will add a touch of elegance to your garden.
3. Bird of Paradise
Bird of Paradise is yet another companion plant that is ideal for tropical gardens.
This showy plant has striking blue and white flowers that resemble the head of a bird.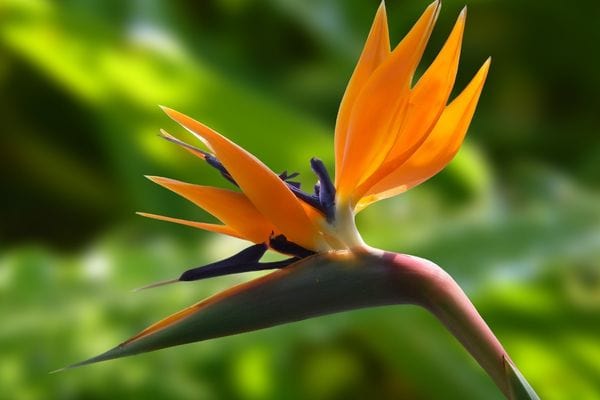 It may not be a very popular plant like some of the common houseplants, but it is definitely a head-turner.
As for the care, the Bird of Paradise doesn't need much attention.
It's a tough plant that can prosper in both sun and partial shade.
But if you want to see blooms, you will need to provide it with full sun.
4. Spider Plant
The Spider plant is a fast-growing plant and is undoubtedly one of the most popular houseplants.
Plus, it has long, slender leaves that look great next to the broad leaves of Crotons.
The best thing about this plant is it comes in variegated and non-variegated forms.
So, you will have quite a few options to choose from.
Spider plant also blooms white flowers, which will complement Croton's colorful leaves.
And if that's not enough, the Spider plant is also known for its ability to purify the air.
5. Snake Plant
While we're on the topic of air-purifying plants, let's not forget the Snake plant.
This is another Croton companion plant that is excellent for those who are looking for a plant that cleans the air.
The Snake plant has long leaves that can reach up to 8-10 feet in length.
It also offers a great range of colors and patterns.
So, if you want a low-maintenance plant, the Snake plant is an excellent option for you.
6. Fiddle Leaf Fig
Just like Crotons, Fiddle Leaf Fig is known for its leaves and overall appearance.
This striking plant has large, glossy leaves that are shaped like a fiddle.
It also does alright if you neglect it a bit.
Fiddle Leaf Fig thrives in bright, indirect light, but it can also grow in low-light conditions.
However, the leaves won't be as big and glossy.
So, if you want your Fiddle Leaf Fig to really stand out, do provide it with sufficient light.
7. Pothos
How about a companion plant that is not only easy to grow but also very versatile?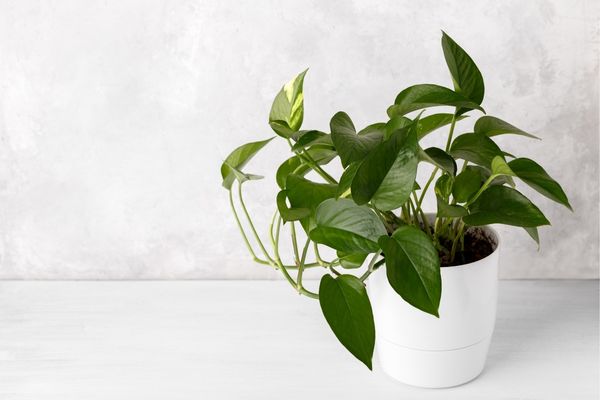 It can be used as a ground cover, a trailing plant, or even an indoor climber.
So, you will have many options as to how you want to use it in your garden.
Pothos is a fast-growing plant that has heart-shaped leaves.
It is available in different colors, such as green, yellow, and even variegated forms.
Hence, it will be very easy for you to find one that goes well with your Crotons.
8. ZZ Plant
While most companion plants are known for their colorful leaves, the ZZ plant is different.
It is a beautiful plant and adds more value to their garden.
ZZ plant is a slow-growing plant, and that's one of the reasons why it is so popular.
Similarly, it doesn't ask for too much care, which makes it perfect for busy people.
So, you can simply keep it in a corner and forget about it.
9. Philodendron
Philodendron is a fast-growing plant that is known for its shiny leaves.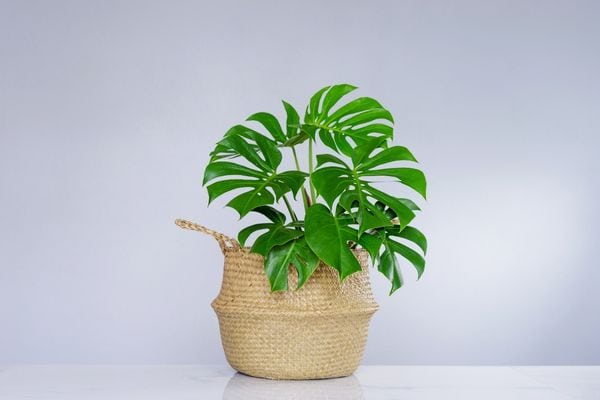 This plant has many varieties, and some of them even have variegated leaves.
So, you will definitely be able to find one that will look great with your crotons.
Philodendron is also a very low-maintenance plant.
That said, it does require some attention when it comes to watering.
You shouldn't overwater this plant as it can lead to root rot.
Other than that, Philodendron is a plant that can be planted with Crotons.
10. Dracaena
Dracaena looks stunning when you plant it with crotons.
This is because Crotons have broad leaves while Dracaena has a completely different leaf shape.
So, it will definitely add more dimension and depth to your garden.
You can keep this plant right next to your Crotons, or you can use it as a background plant.
It also blooms white flowers, which makes it even more beautiful.
But this plant is not known for its flowers, so you will need to find flowering plants to add more beauty to your garden setup.
These are just a few of the many beautiful plants that can be successfully paired with Crotons.
Do consider them whenever you think of planting more plants with your Croton plant.
5 Mistakes To Avoid While Planting Croton Companion Plants
Planting a companion plant or having multiple plants in the garden is not too difficult.
You can just get a few plants from the nursery and plant them together.
But if you want to ensure that your plants keep thriving and look good together, you will have to avoid making some common mistakes.
So, let's quickly take a look at them -
1. Do Not Plant Too Close Together
One of the most common mistakes people make is planting the companion plants too close to each other.
When you plant them too close, they will compete for water, space, and nutrients.
This can make it difficult for both the plants to grow and thrive.
So, keep them at a good distance from each other.
2. Choose The Right Soil
Poor soil doesn't offer essential nutrients to the plants and can make it difficult for them to grow.
That's why it is important to choose the right soil for your companion plants.
3. Keep An Eye On The Humidity Levels
When you are planting multiple plants together, you will have to be aware of humidity levels.
This is because some plants require more humidity than others.
If the humidity levels are not ideal, it can cause problems for some of the plants.
So, adjust the humidity as per the requirements of your plants.
4. Don't Forget About Proper Drainage
Yes, drainage is important for all plants, whether they are Crotons or any other type of plant.
If the drainage is not proper, the roots of the plant will start to rot, and eventually, the plant will die.
That's why you should select the right pots and soil mixes that offer proper drainage.
5. Avoid Overwatering
If there is one thing that you should avoid while planting Croton companion plants, it is overwatering.
Overwatering can lead to problems like root rot, fungus growth, and leaf drop.
So, you should only water the plants if and when required.
There is no need to water them daily.
And on that note, these are the things you should keep in mind while planting companion plants for your Croton.
Just avoid the common mistakes, and you will be good to go.
Next, let's take a look at a few FAQs that people have about companion planting and more.
FAQs
1. Can Crotons Be Planted Together?

Yes, Crotons can be planted together.

Crotons are generally low-maintenance plants that don't require a lot of space.

So, you can plant them together without worrying about crowding each other out.
2. How Do I Make My Croton More Colorful?

You will have to plant different varieties of Crotons together to make them more colorful.

And as mentioned earlier, you can also consider companion planting to get the desired look for your indoor garden.
3. Do Crotons Do Well In Shade?

No, Crotons do not do well in the shade.

They need bright sunlight to thrive.

You will have to provide at least 4-6 hours of sunlight to this plant every day.
4. How Do I Make My Croton Bushy?

To make your Croton plant bushier, you will have to pinch the tips of its leaves.

This will encourage the plant to grow new branches, making it fuller and bushier.

If the plant is already overgrown, you can trim it back to encourage new growth.

It will also help the plant to become bushier in the end.
5. Do Crotons Like To Be Root Bound?

No, Crotons don't like to be root bound.

But they don't mind being slightly pot-bound either.

So, when repotting Crotons, you can surely provide a bigger pot to give the roots some extra room to grow.
Over To You
While companion planting is fun, you should also keep in mind that it's not necessary.
You can still grow Crotons without planting any other plant with them.
But yes, it will help to enhance the look of your indoor garden.
So, if you are up for it, go ahead and give it a try!
And if you have any questions, don't hesitate to ask them below.
I'd be happy to help!
Do share this guide with anyone who might be looking for some ideas on companion plants for Croton.
I'm sure they will find it helpful.
Until next time!