As we all know, milk is one of the most beneficial ingredients to humans.
But you can also clean the plant leaves with milk.
That's true!
And if you have never used it for such a purpose, let's try and learn more about it in the following guide.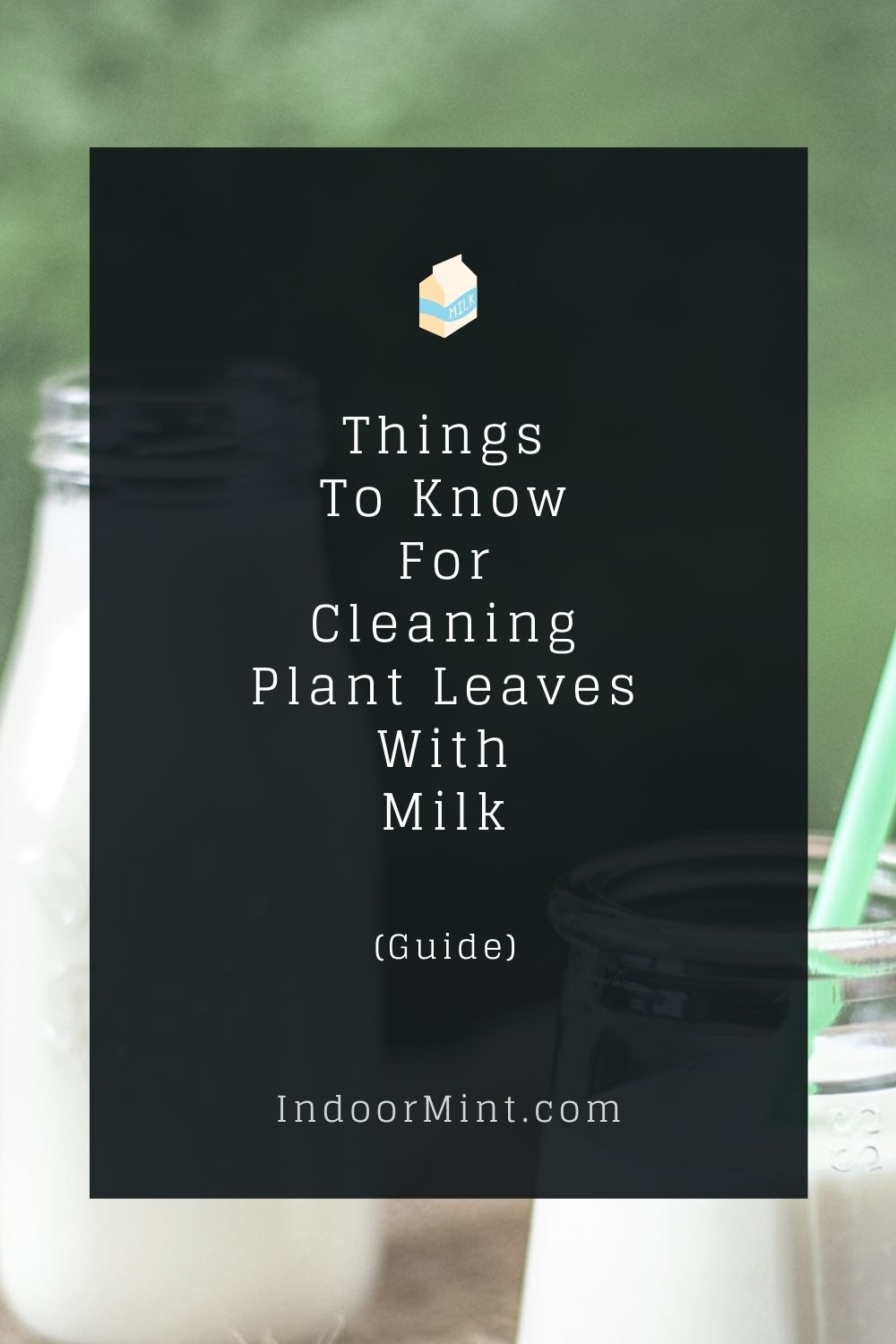 Jump To:
Why Should You Clean Plant Leaves With Milk?
Milk doesn't have any super amazing cleaning properties, but it does have some benefits that might help the growth of the plant.
It is also a great source of calcium, which is quite helpful for plants.
Therefore, it becomes more sensible to use it instead of plain water for this process.
But personally, I'd still prefer plain water instead of a milk mixture or any other diluted mixture.
These mixtures do sound great and may even provide good results, but there are many other things you'd need to do to resolve some of the after issues.
However, milk spray or buttermilk spray is much better than chemical sprays.
Now that you know why we use milk for spraying on plants, let's have a look at the way to use it effectively on the leaves.
How To Clean Plant Leaves With Milk
Before we look into the step-by-step method, you should know a couple of things while using it for plant cleaning.
Do not use leftover or stale milk for this process. Always use fresh milk for it. You can also use skimmed low-fat milk here.
And the second thing is about the quantity. Never use milk in large quantities while spraying on the plant.
Alright, now, let's check out the method below.
Get 1 ltr of water in a pot.
Mix a couple of tablespoons of milk in it.
Pour this mixture into your spray bottle.
Spray the mixture on the leaves.
Once you are done with this process, wait for half an hour or so.
Now, spray the plant with plain water and allow it to dry in an airy place.
Note: If you do not have a water spray, you can pour the milk mixture and water directly on the leaves.
Also, you can clean the residual milk on the leaves and stem using a damp cloth.
And if you don't want to put in so much effort, you can simply use plain water to get rid of any remaining milk.
Alright, so that's how you can use milk to spray on the leaves.
Of course, it won't make them shiny and glossy, but I'm sure you'd be happy with the overall results.
Important: Do not spray the milk mixture during the rainy or winter season.
You should only do it during summer, as the hot temperatures should help in drying out the plant quickly.
If you let the milk or water sit on the plant's surfaces, it'd be an open invitation to all sorts of issues.
So, do keep these things in mind before using such sprays on your plants.
Things To Remember While Cleaning Plant Leaves With Milk
Although there are more benefits to using milk on the plant, you need to be a little bit careful.
Here's a list of things that you should consider while spraying the milk on the leaves.
1. Do Not Use Leftover Milk
Yes, there is no point in using such milk on the plant.
You should strive to get fresh milk for this process.
If you use rancid milk on your plants, it might attract some bugs and fungi.
And that's not what you want to see on the plants!
2. Use It In Less Quantity
After all, it's a perishable food item.
It won't stay fresh for long, even if you use fresh milk while applying it to the plant leaves.
And once the time elapses, the bacteria will start feasting on it.
The whole process produces a foul smell in the end, which will attract even more bugs and flies to the plant.
So, be wary of these things when you use milk for spraying.
Bonus Tip: Use Buttermilk
Buttermilk works great for plants!
It can boost the growth of the plant instantaneously.
For application purposes, you can prepare a dilute solution of buttermilk and water.
And spray it on the plant every 10-15 days.
It will not only help remove dust from the plants but will also benefit hugely in growing the plant without too many fertilizers.
However, like milk or any other edible ingredient, you should never use it in large quantities.
FAQs
1. How Do I Make My Plant Leaves Shiny?
There are many ways through which you can make your plant leaves fresh and shiny.

And the best way to do it is by using natural processes.

For e.g.,

If you provide good fertilizer and take care of the plant regularly, you don't have to do anything else to make the leaves shiny.

Of course, if there is some dust on the leaves, you will need to remove it.

And for that, you can use something as simple as water!

Simply spray the plant with water, and it will bring back the shiny glow to the leaves.

Alternatively, you can also use mineral oil or neem oil to get extra shine to the leaves.
2. Is Egg White Good For Plant Leaves?
No, egg whites are not good for plant leaves.

It has more disadvantages than advantages.

So, it doesn't make any sense to use it to bring shine to the leaves.

Instead, you can use plain water spray to remove any dust from the plant.

Also, it is important to note that egg white or any such food particles will attract bugs, flies, and many such insects to the plant.

3. Is Mayonnaise Good For Plant Leaves?
Similar to egg whites, mayonnaise won't be a very useful ingredient for the leaves.

It will make a mess of everything, and you'd surely regret using such an ingredient on the plant leaves.

So, refrain from applying mayonnaise or egg white on the leaves or any other part of the plant.
4. How Do You Remove Water Stains From Leaves?
Water stains are nothing but a residue from lime used in the water purification process.
And it can be easily removed from the leaves.

You just have to dampen a piece of cloth with water and remove such stains individually.

While performing this step, do ensure that you won't be rubbing the leaves vigorously.

If you do, you might damage the leaves completely.
5. Can You Put Olive Oil On Plant Leaves?
Technically, you can use olive oil to shine the plant leaves.

But it can easily clog the pores on the leaf's surface.

So, make sure you use it sparingly.
Over To You
Did you like this guide?
Well, if you are an experimental gardener who loves to try out different methods and techniques, I'm sure you'd want to check out this method of cleaning plant leaves with milk.
And if you feel a bit hesitant, you can use plain water to remove any dust from the leaves and stem of the plant.
It'd be as good as cleaning with the milk mixture.
Also, if you want to remove some sticky stains from the leaves, you can spray some soapy water on them.
It will give you much better results as compared to using plain water on the leaves.
On that note, let's conclude this guide here.
Now, do let me know how you like to spray your plants. 
Do you use plain water or some other mixture?
You can leave a comment below to share your answers and feedback.