Boston Fern plant has an interesting feature called runners. These runners are not seen in many other indoor plants.
Therefore, when this plant begins producing them suddenly, you might get confused by their appearance. Thankfully, though, you don't have to worry about them a lot, as this is just another characteristic of this plant.
In the following guide, you will find more information about these leafless runners in detail. So, let's dive right in!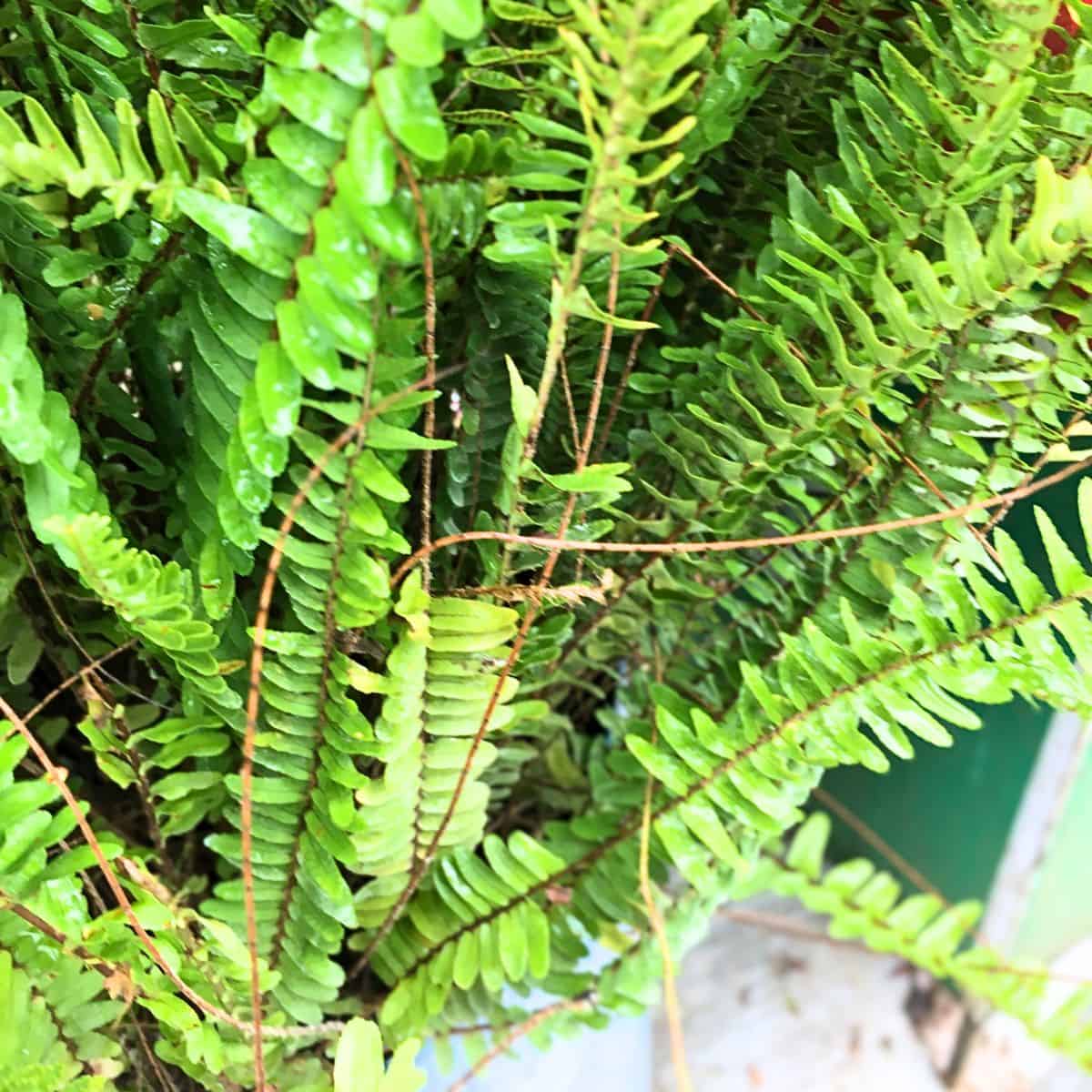 Jump To:
What Are Boston Fern Leafless Runners?
As mentioned in the above introduction, the Boston Fern does produce leafless runners.
Scientifically, these runners are called stolons.
Well, it's a plant's way of telling you it's ready for self-propagation.
That's right! With the help of stolons, the plant tries to find soil or ground around the pot.
Once they come in contact with the soil, they will try to root in this medium. If the medium is suitable for growth, you should see new plants growing from this place.
So, that's pretty much the way these leafless runners work, and they are harmless as well. In fact, you can use them to have many more Boston Ferns in your home garden.
In the next section, I have shared a few useful tips for these runners on the plant. You can refer to them for further action.
Things You Can Do With The Boston Fern Leafless Runners
Although you don't have to do anything specific in this case, you can surely attend to this problem and try to maintain the plant as much as you can.
Here's a list of things that might be useful while trying to work on this issue -
1. Let Them Grow On The Plant
Well, that's the best thing you can do with them.
If you are not too bothered about the leafless runners, you can just let them grow on the plant. They won't cause any harm to the plant.
Once they complete their lifecycle, they will dry out automatically and make way for new ones to come out in the future. So, continue to take care of the plant as you usually do.
2. Avoid Ground Contact If You Don't Want To See Self-Propagation
If you have decided to keep these leafless runners on your Boston Fern plant, there is one thing you should do to avoid unnecessary growth. That is, you shouldn't let these runners touch the ground.
As you know, the runners will continue to look for a surface where they can begin the rooting process. If you don't want them to propagate, this is the least you can do.
In case you have planted this fern in a hanging basket, you can guide these runners on the hanging ropes. This way, they won't fall and will look pretty as well.
3. Prune Them Off
Pruning is always an option when you see such unwanted growth in your plant. If you feel these runners are not looking great on the plant, you can take them off.
These runners are not so hard to remove from the plant, so you can just apply a bit of pressure using your fingers and remove them entirely. If you find it hard, you can also use scissors to carry out this task.
However, try to prune them from the base of their growth.
With this, they won't interfere with the look of your indoor decor settings. You can follow this practice each time you see runners on your Boston Fern plant.
4. Prune The Plant
Yes, you can also prune the plant.
When you prune the plant, it will automatically take care of this issue.
Of course, if you see a couple of runners coming out of the base, you can always pull them out. Overall, pruning an entire plant would be a good option, as it will encourage the plant to produce more stems and leaves than runners.
This is an excellent way of diverting the plant's energy and making it focus on the right path.
Still, it's not going to be a long-term solution for this issue because you can't prune the plant every month or so.
If you do, it will cause specific issues in the plant. And that's something you wouldn't want to see in your plant.
So, even if you want to prune the plant, make sure you do it properly. You won't get many opportunities to do so in the coming months.
5. Transplant The Runners To New Pots
Don't want to prune the plant?
No problem! You can take out the runners from the plant and root them separately. It's another great way to make use of this situation.
With these runners, you will have multiple Boston Ferns in your garden.
More importantly, you will be able to keep the look of your main plant intact with this method. So, go ahead and try rooting these runners in some other pots.
As you can see, these are the few things you can do to address this issue in your Boston Fern plant. If you let them be on the plant, it won't make much difference.
And if you cut them off, it will not cause harm to the plant either.
Hence, it's entirely up to you as to how you want to proceed with the actions. Both these options are pretty useful and will help grow your plant without any issues.
Personally, though, I would just perform light pruning on the plant.
When you see runners on the plant, it's a sign that it has reached the maturity level. It won't send runners at a relatively younger age.
So, it's a perfect time to prune the plant and keep the unnecessary growth in control.
Now that you have learned more about these leafless runners, let's move to the FAQs section. In this section, I have tried to answer some of the common questions about this topic.
FAQs
1. Should I Cut Off Boston Fern Runners?
As the guide explains, you can surely cut off the runners on your Boston Fern plant. These runners are meant for the propagation process, and they will start to come up as soon as the plant reaches a certain age.
2. What Do You Do With Fern Runners?
There is nothing that needs to be done with the Fern runners. They will just grow on the plant and dry out as they finish their lifecycle.

If you want to keep them, you can ignore them entirely. Alternatively, you can take them off with your hand or scissors.
3. Do Boston Ferns Grow Back?
It depends on the condition of your plant. If some of the fronds appear alright, you might see improvement in the plant's growth
in a few weeks.

But you need to know and fix the underlying cause in the first place. If you don't fix it, you will have a difficult time growing this plant again.
4. Do Boston Ferns Grow Fast?
Yes, the Boston Ferns can grow fast if you provide this plant with sufficient nutrients, light, and water.

All these factors are quite important in maintaining the growth rate of your plant. If you feel the plant is not doing well for some reason, you will need to work on these three factors before thinking of other options.
5. Can You Root Fern Cuttings In Water?
Yes, you can use water propagation to root the fern cuttings.

Later, once the rooting is done, you can move the plant to a soil-based pot. The soil will help provide enough nutrients to the plant.